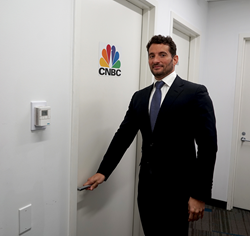 It is my goal to take the fear and ambiguity out of alternative investing so that more Americans can experience the benefits of a passive retirement solution
Chicago, IL (PRWEB) November 14, 2017
Known in the industry as the pre-eminent source for self-directed investments within retirement portfolios, SDIRA Wealth is changing the way Americans are planning for retirement.
Preston Despenas is a visionary, helping others achieve their financial goals by employing a strategy that, up until this point, has been reserved only for the wealthy and well-connected. Learning early in his career to use real-estate as a long-term vehicle for wealth creation he sought to develop a method for holding these assets in tax-advantaged accounts and make them available to investors looking for a passive strategy with accelerated returns.
Since the birth of SDIRA Wealth, it has been Despenas's mission to educate individuals across the country on the advantages of self-direction and the power of holding deeded real-estate in their retirement portfolios.
Despenas said, "From the time I made my very first real-estate investment, it has become my passion to educate others on the success that they too can achieve if they challenge themselves to move away from status quo and take control of their own financial future. It is my goal to take the fear and ambiguity out of alternative investing so that more Americans can experience the benefits of a passive retirement solution. Nothing gives me greater joy than to hear the success stories of our clients, who through our strategy, are living the lives they always wanted in retirement."
Despenas has taken his mission to a new level, launching the firms Partnership Program with the nations leading wealth advisor and financial firms. "We are always implementing new growth strategies as a company and our strategic relationships with these market influencers is allowing us to reach a broader audience and help more people" said Despenas. The success of this newly designed program is gaining traction and allowing financial advisors access to high-performing assets for their clients and educational tools that will aid and further awareness within the self-directed retirement space.
SDIRA Wealth's Educational Resources and information on how to qualify for their Partnership Program can be found online at sdirawealth.com.