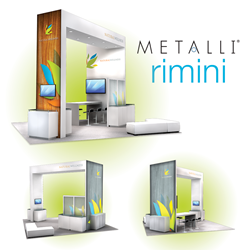 Since the structure itself takes up minimal floor space, exhibitors have plenty of room to add seating, demo stations, product displays and more.
DALLAS (PRWEB) November 15, 2017
The Trade Group's new 20'x20' METALLI Rimini display features a bold center bridge, open floor plan, generous wall space and a semi-private office. Or does it? That's the beauty of their METALLI line of modular trade show displays – features can be added or removed to fit exhibiting needs.
In its original configuration, the Rimini is ideal for exhibitors looking for an island style display with an open feel and branding visible from every angle. The height of the bridge (up to nearly 16 feet) helps ensure the exhibit can be seen from across the trade show floor.
Since the structure itself takes up minimal floor space, exhibitors have plenty of room to add seating, demo stations, product displays and more.
Branding Available Throughout
Some of the endless ways the METALLI Rimini trade show exhibit can be customized are:
Bridge feature. The heart of the Rimini resides in it center bridge, which features eight recessed LED downlights that illuminate the space and provide a welcoming feel. The bridge come in heights of either 145" or 183" and can be modified to include:

Shelving.
Product displays.
Storage cabinets.
Choice of standard flat panel graphics or SEG fabric backlit graphics.
Varying backwall lengths and heights, and more.
Another bridge can even be added to the display to heighten visual impact or feature products that need to hang from a ceiling – such as lights, cameras or security systems.
Semi-private meeting space. The Trade Group can modify the Rimini's meeting space in a variety of ways. Consider frosted acrylic or etched glass effects for the window divider, or choose a pony wall adorned with plants or other decorative accents.
Or go to the extreme. TTG can enclose the office on all sides for total privacy or remove the wall completely if privacy – or semi-privacy – isn't a concern.
Branding. Every inch – 360 degrees in fact – of the Rimini display can be customized with branding. Some options include:
Corporate messaging and logos on every inch of the bridge, including SEG backlit fabric graphics, visible inside and out.
Multiple options for murals, depending on the wall size chosen.
Custom motion lighting to cast an image of your logo on the floor or wall.
Custom printed flooring with logo, messaging, brand colors, photographs OR to be used as a wayfinding tool.
Interactive displays, kiosks, counters and workstations. Since the booth structure covers minimal floor space, the Rimini works well for exhibitors who need room for any of the above. In fact, in the 20'x20' configuration, up to nine kiosks can easily be set up throughout the space. Plus, the bridge and back wall provide ample space for video monitors, too.
Lighting features. Along with the recessed LED lighting in the bridge, custom motion lighting and backlit graphics mentioned earlier, The Trade Group offers several accent lighting and illuminating options to choose from.
Seating. Whether looking for comfortable couches where guests can relax or tables and chairs to conduct business – TTG can fit the Rimini with seating to accommodate. Traditional, modern and high-end options are available.
Need pricing, design ideas and more?
Give The Trade Group a call at 800-343-2005 to speak with one of their helpful sales consultants.
-------------------------------------
ABOUT THE TRADE GROUP
The Trade Group is a full-service, award-winning provider of products and services for trade shows, corporate events, retail environments and an endless array of face-to-face experiences and activations. The organization helps clients share their unique stories through a comprehensive suite of solutions that includes: exhibit design and fabrication, graphic design and production, exhibit management, digital applications, experiential marketing activations, event coordination and production, videography, strategic marketing and more.