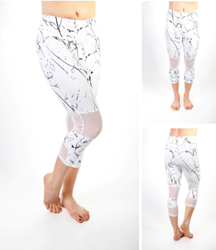 (PRWEB) November 13, 2017
Join True Activewear as they make their debut at the retail incubator RAAS's Local Market Grand Opening in the Mall of America on Nov. 15.
The marketplace will feature 20 emerging Minnesota brands and makers offering retail goods ranging from handcrafted accessories and beauty products to baked goods and clothing.
"This is an amazing opportunity for us as a new face in the activewear market," said True Activewear co-founder Katie Milroy. "It's a gateway to having our own store and the perfect way to show our community our commitment to giving back."
True Activewear is the maker of athletic apparel designed for the girl on-the-go. They offer unique tanks, sweaters, leggings, hats, and bags designed to support her active lifestyle from the gym to the trailhead.
For every item that's purchased, they donate a portion of the sale to a special organization. This quarter, they are supporting Women's Win—a global leader in supporting girls' empowerment by leveraging the power of play to build their leadership skills, confidence, and self-esteem.
"We are honored to be included as one of RAAS's initial retailers at the market," said Milroy. "We can't wait to make this journey alongside the other talented up-and-coming brands."
The Grand Opening Party for RAAS Local Market will feature an exclusive Press Preview from 11-3 and Public Event from 6-9pm on Nov. 15. The community is invited to RSVP for a night of exploring new brands while sipping champagne, enjoying hors d'oeuvres, and connecting with other creatives.
About
True Activewear is a female-led fitness apparel brand whose functional pieces give women the confidence to push for their personal bests. Each quarter they donate a portion of their proceeds to organizations dedicated to helping young girls develop strong relationships through sport and activities.