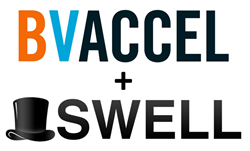 We believe that BVAccel's design expertise perfectly complements our flexible incentive marketing platform
(PRWEB) November 15, 2017
Swell and BVAccel have collaborated to create pre-designed, ready-to-deploy programs that allow merchants to seamlessly integrate Swell's powerful incentive marketing tools into their Shopify and Shopify Plus stores. The programs are easily deployable for the two firms' mutual clients, and they simultaneously exhibit BVAccel's design expertise and Swell's best practices for maximizing return on incentive marketing activities and improving customer experience. This type of agency – technology platform partnership is one-of-a-kind in the Shopify ecosystem.
BVAccel-approved programs immediately available for use include a rewards program, a referral program, and a combined rewards and referral program. For Shopify Plus merchants, a highly-specialized version of each program was designed to take full advantage of the unique features the Enterprise-grade platform offers.
"BVAccel and Swell's unique partnership represents our commitment to providing industry-best technologies as we work in the relentless pursuit of profits for our clients" said Jonathan Poma, CEO of BVAccel, "Swell's adaptable program gives us the autonomy to seamlessly incorporate their tools into our Alpha Program, where we take validated strategies and implement them across our clients webstores."
Each version of the jointly-inspired programs have been rigorously vetted by BVAccel's VP of Design, Kenny Rosenberg, and demonstrate BVAccel's industry-leading design and development practices.
"We believe that BVAccel's design expertise perfectly complements our flexible incentive marketing platform," said Josh Enzer, CEO of Swell, "This collaboration is a testament to the deep working relationship that our respective teams have developed after working together to serve countless mutual clients. We encourage all of our customers to explore how these designs can improve their incentive marketing programs and overall branding strategies."
For more information on how your organization can utilize the combined offering, please reach out to nikki(at)bvaccel(dot)com (BVAccel) or stewart(at)swellrewards(dot)com (Swell).
About Swell
Swell is pioneering the field of incentive marketing and helps e-commerce businesses implement and manage high-performing loyalty, referral, and email capture programs. With an easy-to-manage interface, merchants can easily customize Swell's programs to meet their incentive marketing needs and integrate with their existing branding. Swell is based in Boston, MA. Please email us at team(at)swellrewards(dot)com or visit our website at https://www.swellrewards.com/about-demo.