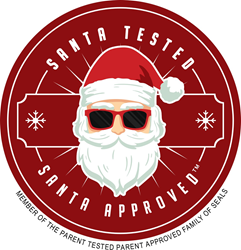 (PRWEB) November 14, 2017
Top Awards Organization PTPA Media Inc. today reveals the first award recipients of a new and highly-coveted Seal of Approval: Santa Tested Santa Approved.
This Seal of Approval is the newest member of the PTPA family of certifications. This certification highlights great products specifically curated for the holiday season. Our winners have been selected by an enthusiastic group of consumers, chosen from our community of holiday-loving parents, in order to determine which products best capture the magic of the season and fulfill their shopping needs for the holidays.
Winning products were represented in a number of categories from prepared desserts to the perfect gifts for family, friends and even pets, there was something to be enjoyed by all.
Santa Tested Santa Approved Award Recipients
ALDI Baker's Corner Bake Mix-In's
ALDI Specially Selected Christmas Tree Brioche
ALDI Heart to Tail Holiday Pet Sweaters
ALDI Specially Selected Caramel Corn Nut Mix
ALDI Specially Selected Indulgent Popcorn Tins
ALDI Choceur Chocolate Coins
ALDI Lunch Buddies Holiday Fruit Snacks
ALDI Choceur Mini Chocolate Bars
ALDI Benton's Peanut Butter Filled Cookies
ALDI Benton's Gingerbread House
ALDI Bake House Creations Christmas Sugar Cookie Dough
ALDI Belmont Gourmet Cream Pies
ALDI Activ Energy 24 Pack Batteries
ALDI Friendly Farms Delightfully Pure Coffee Creamers
ALDI Benton's Snowman Graham Snack Packs
How Winners Are Determined
Families across North America participate in the testing process, at no cost to them. They evaluate the products with their families in real life environments rather than simply conducting a consumer vote. Their feedback and evaluations are carefully tallied and curated, and products that meet their standards earn the coveted PTPA Seal of Approval, which can be leveraged on packaging, advertising, end-cap displays, and more. News of the victory is shared among our community of over 85,000 families. Independent research has confirmed that the PTPA Seal of Approval ranks among the top 3 most recognized seals in North America. (1)
About PTPA Media Inc.
"At PTPA Media, we are proud to play a role in certifying innovative products that families can trust," says Sharon Vinderine, Founder & CEO of PTPA Media. "Over 83% of consumers say that they make their purchasing decisions based on peer recommendations. Seeing a peer based certification like ours on a product helps consumers make informed purchasing decisions on something other than price points. If your peers loved it, there is a high likelihood that you will as well." For more information visit http://www.ptpamedia.com.
(1) Survey conducted by Research Now
For further information: Sharon Vinderine, 905-738-1447