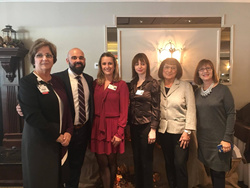 PARAMUS, N.J. (PRWEB) November 14, 2017
CareOne, a premier family-owned healthcare company today announced plans to open its latest senior care facility, CareOne Harmony Village at Paramus (189 Paramus Road Paramus, NJ 07652) which will be dedicated to serving those living with Alzheimer's disease, dementia and related memory impairments. The expansion marks CareOne's thirty-second location in the Garden State and affirms the company's mission of developing state of the art care and living environments for people living with memory loss.
Harmony Village at CareOne Paramus will be a trailblazing assisted living community for the memory impaired, offering innovative memory care programs designed to help residents maintain the highest possible quality of life, as well as optimal cognitive and physical functioning. Harmony Village at Paramus' accommodations include 124 private apartments and four distinct "neighborhoods" for residents with varying stages of memory impairment, making it the only dedicated assisted living community for the memory impaired in Bergen County. Day-to-day life at Harmony Village at Paramus will encourage activity, fellowship and health in a welcoming community designed to emphasize each person's ability
"With the increasing demand for new and progressive care options for people living with Alzheimer's Disease, our goal is to provide a safe and engaging assisting living community that reflects the high standard of care that CareOne has become known for," noted CareOne Chairman and CEO Daniel E. Straus. "With each new building that we open, we strengthen our operational expertise and illustrate our strong commitment to serving older adults with compassion and excellence."
The team at Harmony Village at CareOne Paramus is specially trained to work with residents living with memory impairments and to work with their families to create a personalized care plan that maximizes independence and works toward quality of life enhancement. The specialized team will be led by site administrator Sindy Vaillencourt who will ensure the new facility upholds the highest in healthcare standards.
Harmony Village at CareOne Paramus is slated to open in November of 2017. Families interested in admission information for CareOne Harmony Village at Paramus may contact a CareOne representative by visiting CareOne online or calling 551-275-7213 to learn more about the health care options available to them.
As one of New Jersey's largest family-owned, healthcare providers, and one of the largest privately-owned healthcare companies in the United States, CareOne's commitment to exceptional care is epitomized by employees throughout the organization. The company was recognized for its accomplishments and dedication to healthcare this past June when they were named Make-A-Wish New Jersey's 2017 Humanitarian of the Year & Corporation of the Year award as a result of CareOne's 200 Wishes fundraiser that took place at the Prudential Center in February 2017.
For more information about CareOne and their services, please visit http://www.Care-One.com.
About CareOne
With services that include post-hospital care, rehabilitation, assisted living, long-term care and a variety of clinical specialty programs, CareOne offers compassionate care in gracious, professionally managed centers and communities. CareOne serves thousands of patients every day and admits and discharges more than 20,000 patients every year. With more than 31 centers in New Jersey, CareOne's outstanding programs and services are conveniently located throughout the state. Interested parties can engage with CareOne on social media by following @CareOneMgt on Twitter, @careonemgt on Instagram, and CareOne Management, LLC on Facebook and LinkedIn. For more information about CareOne, please visit http://www.care-one.com.