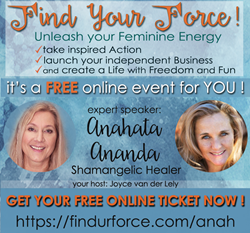 Balancing the feminine and masculine energies is the key to unlocking some of the most powerful forces for change and personal fulfillment we've yet discovered.
Sedona, Arizona (PRWEB) November 16, 2017
Energy Healer and Shamanic Soul Guide Anahata Ananda of Shamangelic Healing, Sedona Arizona's Premier Center for Shamanic Healing and Spiritual Awakening, is proud to announce her role as featured guest and expert on Balancing the Inner Feminine and Masculine to achieve spiritual and emotional wellness with Find Your Force host Joyce van der Lely.
The Find Your Force Summit is a one-of-a-kind event featuring over twenty inspirational speakers, thought leaders and healing arts practitioners. Each presentation is designed to help women unleash their feminine power to build successful independent businesses and create a life of personal and financial freedom.
Joyce van der Lely is an inspirational speaker and business coach in Australia offering creative strategies for using one's creative feminine energies to create life balance. In this public access online event Anahata offers her audience a thought provoking and inspiring discussion about balancing both the feminine and masculine energies and traits inherent in every person, along with practical tools for living a more fulfilling life.
The Find Your Force Summit event, including Anahata's presentation Balancing the Feminine and Masculine, launches Monday, December 4, 2017. Registration for free access to this inspiring online event opens in mid-November and runs through early December 2017. For over two weeks registrants have will have access to a full menu of prerecorded interviews and speakers.
Anahata also offers the online course Balancing the Divine Feminine and Masculine Within. "Our fullest potential is found in weaving the two together within ourselves. Men and women both carry feminine and masculine energy and wisdom," explains Anahata.
This course is designed for people who feel themselves out of balance with these energies, whether from trauma, stress or other life events. Find this and other courses for spiritual awakening and empowerment on the Kajabi online conscious education platform. The course offers people simple tools to heal, balance, and awaken their divine masculine and feminine qualities within to re-establish a harmonious, sacred union between the two. Through eight engaging videos, a comprehensive course handout, and simple exercises, inner and external conflict can be shifted to harmony and unity in all areas of life.
Shamanic Healer and Spiritual Counselor, Anahata Ananda has trained extensively with gifted shamans, energy healers and spiritual teachers from around the world in order to artfully integrate the fields of spirituality, energy healing, self-empowerment, and shamanic teachings. Her client-base spans the globe with individuals from all walks of life who are seeking to heal and awaken to their fullest potential.
To facilitate further spiritual awakening and conscious expansion, Anahata also offers Shamanic Wisdom Teachings which explores the in-depth world of shamanism, its traditions and elemental wisdom teachings, Shamangelic Breathwork Facilitator Training and other courses for empowerment and awakening.
Anahata also offers Shamangelic Tailored Sedona Retreats, a wide range of private sessions tailored to meet the needs of students and clients for their core healing, spiritual awakening or individualized training. Sessions may also include Shamanic healing, Sacred Vortex Land Journeys, Shamanic Wisdom Teachings, Chakra Balancing, Meditation Practices, Tools for Healthy Conscious Relationships, and more.
The Shamangelic Healing Center is based in Sedona, Arizona. It is nestled beneath Thunder Mountain, with 360 degrees of breathtaking views, and within walking distance to a medicine wheel and healing vortexes, making it the perfect setting for healing and expansion.
Inside, the retreat center's calm and relaxed environment helps to engage all of the senses, making it easy to settle into a session. Clients seeking Spiritual awakening, transformational healing services, counseling, sacred land journeys or training courses may choose from a wide range of options that can be tailored for the ultimate personal experience. Private Healing Sessions with Anahata are also available at the Center where Anahata provides personal sessions in a safe and loving space for deep healing and spiritual awakening.
Whether visitors are seeking a Weekend Intensive on Empowerment & Awakening, a soulful Sedona Retreat of Transformational Healing and Spiritual Awakening, a Sacred Vortex Land Journey or training in the shamanic traditions, Shamangelic Healing provides profoundly empowering experiences, all among the Red Rocks.
For detailed descriptions and a calendar of all training courses, retreats and spiritual awakening services offered by Anahata of Shamangelic Healing Center visit http://shamangelichealing.com/.