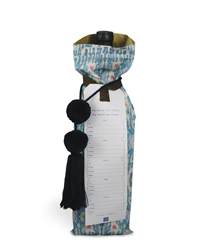 (PRWEB) November 14, 2017
MIXT Studio's Reusable Wine Bags ($12) are the perfect gift for the wine lover. A memorable holiday hostess gift, these festive gift bags fit bottles up to 3.5" in diameter and feature ethnic-inspired prints and a metallic gold interior. Adorned with tassel-pom embellishments and a unique "traveling tag," each eco-friendly bottle bag shares the story of where it's been as it gets gifted forward. The tag features five write-in slots (each with to, from, event, date), meaning each new recipient can see the bags's journey as it gets reused. The tag is also printed with the inspirational message, "The more we share, the more we have." The heavy-duty Tyvek® bags are recyclable water-resistant.
The MIXT Studio's Candle Wraps ($12/set of 3) are an elegant, economical way to add a pop of color and sparkle to events and room decor. These one-of-a-kind lanterns are made of eco-friendly, heavy vellum paper that wraps around a plain votive or tea light to create an eye-catching display. Every MIXT Studio Candle Wrap (sold in a set of 3) offers a wide variety of colorful, globally-inspired designs. The die-cut shape wraps around smaller candles with ease and also work well with flameless candles. Candle Wraps are recyclable, biodegradable and free of acids and chemical additives.
Founded in 2012 and located in Hermosa Beach, CA, MIXT Studio by Marcie Carson is a lifestyle brand that designs, manufactures and curates a free-spirited collection of paper goods, gifts, apparel and accessories with a modern-boho vibe. Best known for fresh, fashionable patterns printed on Tyvek® bags and totes, MIXT can now be found in over 300 stores across the nation and online at mixtstudio.com.
MIXT Studio's Reusable Wine Bags and Candle Wraps are available at https://mixtstudio.com.