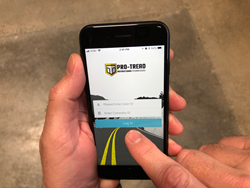 With the PRO-TREAD Mobile App, carriers are able to give drivers options for when, where and how to complete training.
VANCOUVER, Wash. (PRWEB) November 14, 2017
Instructional Technologies Inc. (ITI), providers of training solutions for the transportation industry including PRO-TREAD online training content and the Sentix training automation platform, introduced here today the new PRO-TREAD Mobile App. The announcement was made during the annual Safety, Security, and Human Resources National Conference and Exhibition of the ATA Safety Management Council (SMC).
"With the PRO-TREAD Mobile App, carriers are able to give drivers options for when, where and how to complete training," said Aaron Purvis, chief technology officer of ITI. "Custom, compulsory and company specific training from ITI can be completed on mobile devices or on a computer. This new mobile platform allows employees to meet training, safety and compliance needs with the tools fleets are already providing for ELD, routing, inventory and other fleet management needs."
Available through the Apple App store and Google Play for Android, the PRO-TREAD Mobile App is designed for drivers and warehouse employees with mobile devices. With the same simple login used for PRO-TREAD online training, access to assigned courses and available libraries is just one click away.
The PRO-TREAD Mobile App is included free with PRO-TREAD accounts that use the Sentix platform, ITI's recently introduced Learning Management System (LMS) for scheduling, tracking, verifying and managing training. Centralized controls in Sentix apply simultaneously to the Mobile App and PRO-TREAD to enable:

Integration with management-approved app lists and on pre-configured mobile devices
Lesson assignments for specific users or open access to all lesson content
Instant recording of lesson starts, progress and completion, ensuring users can continue lessons from the same point they left off either online or on their mobile devices
Switching between online and mobile devices without losing their place in the lesson
"The PRO-TREAD Mobile App is the latest evolution of our training technology," Purvis said. "In addition, as many ELDs and telematics are built on or for Android and IoS platforms, it makes it simple to include the Mobile App on existing fleet management devices."
With the PRO-TREAD Mobile App there are no in-app purchases or outside links. Device settings can prevent using cellular data to download or stream content and lessons are cleared from the device cache upon completion, freeing up memory space.
ITI is known for its effective mastery learning training strategy, an instructional method by which the student must 'master' each subject before moving to the next. The online strategy is proven to improve employee safety behaviors and provide defensible proof that students have mastered a topic. With ITI, fleets have the flexibility to use off-the-shelf PRO-TREAD lessons, engage ITI's PRO-SERVICE team to develop customized content, and use ITI's secure hosting services for their own content.
About Instructional Technologies, Inc.
Founded in 1995 and based in Vancouver, Washington, Instructional Technologies Inc. (ITI) is the leading provider of online training to the transportation industry. The company's commitment to training is based on the principles of mastery learning, accurate and automated record keeping, and up-to-date information that ensure personnel have been effectively trained and detailed records kept. ITI makes fleets and warehouses safer and more profitable through its PRO-TREAD library of more than 120 standard training courses that blend engaging content with real-world, how-to scenarios, and its Sentix platform that automates the day-to-day administration of an online training program in addition to integrating with transportation management and back office systems. Transportation and logistics companies choose ITI because of its automated learning management system, custom training capabilities, flexible lesson methodologies, and engaging 3D animations that improve retention, ensure subject matter mastery and lower the total cost of training. For more information, please visit http://www.instructiontech.net.