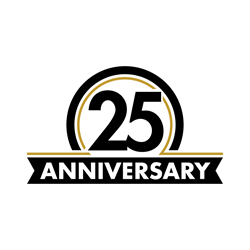 We have achieved this milestone through the hard work and dedication of our associates and our entire organization's commitment to high levels of customer service.
SAUSALITO, Calif. (PRWEB) November 14, 2017
Ascert has reached an exciting milestone as the company celebrates 25 years of delivering innovative testing technologies. Using Ascert's automated testing offerings over the past quarter century, financial institutions have improved their day-to-day business operations, enhanced their ability to take valuable services to market faster for their customers, and helped to achieve significant operating cost reductions.
In 1992, before the coining of the "Fintech" name for our industry, Ascert recognized the need to provide financial institutions with testing tools that made a real difference to the quality and development of financial solutions to the marketplace. This motivation and founding spirit remains the same today. The end goal has always been to deliver testing tools that enable automated solutions that are predictive, powerful, and protect the integrity of the financial transaction processing networks and applications. Ascert has achieved this goal through its continued adoption of advanced technology coupled with an ongoing commitment to excellence.
Ascert is led by Andrew Mould and Rob Walker, and has maintained its privately-held ownership throughout its history. This has allowed Ascert to control key strategic and business decisions that have ensured a consistent focus on meeting the specific business needs of its customer base.
"This last 25 years has been the most interesting and rewarding period of my professional career," said Andrew Mould, Ascert's Managing Partner and one if its co-founders. "Our first line of testing products was developed by listening to what the marketplace wanted and needed, and establishing great relationships with our first customers. We continue that successful practice of listening to our customers and have been able to deliver world-class testing products that make a significant difference in protecting their businesses. I want to express a big thanks to our hundreds of valued customers and strategic partners who have helped us to be a leader in testing technologies."
"We have achieved this milestone through the hard work and dedication of our associates and our entire organization's commitment to high levels of customer service" said Rob Walker, Ascert's other Managing Partner. Mr Walker is also the founder of Ascert in the UK, which is itself celebrating its 20th anniversary this year. "We have dedicated ourselves to 25 years of product innovation and providing testing technologies that really make a difference to our customers. I attribute our success to our singular focus of helping companies streamline the way they test their internal and external transaction and communication networks, enabling opportunities to achieve both production efficiencies as well as increased revenue possibilities."
Over the last quarter century, Ascert's suite of product offerings has expanded in response to customers' evolving business expectations and technological needs. Initially designed for the Tandem Computer (HPE NonStop), where "failure was not an option", it now operates on any hardware platform in addition to being available as a cloud-based service. Ascert's technologies have shown they can truly withstand the ultimate test – that of time; we look forward to continuing that for many more years.
To find out more about Ascert's testing server or cloud-based technologies, visit the Ascert Web Site or contact one of the Ascert offices.
About Ascert: 
Ascert is recognized as a leading provider of premier testing software solutions. Ascert was founded in 1992 to provide automated software testing solutions that help companies measure the performance, reliability and scalability of their mission-critical back-end servers and applications. With over 100 clients worldwide, Ascert's products and services are used at some of the world's most successful companies.
Off-the-shelf simulators for Ascert's VersaTest product include solutions for EFT testing, POS testing, stress testing, ATM testing, Fraud testing, IFX testing, EMV/chip card testing, ISO8583 testing and 3270 & 6530 terminal testing. Ascert's custom simulators have been used for testing air traffic control systems and biometric payment systems. Ascert delivers flexible solutions that are either customer site installed or accessed via Ascert's cloud-based Ascertified Testing Service. Ascert's products assist testing professionals across industry segments to better manage their testing processes and environments through an end-to-end tool set.
For inquiries in the America's and Asia-Pacific:
Richard B. Greene 
Ascert, LLC 
759 Bridgeway 
Sausalito, CA 94965, USA
Telephone: 1-415-339-8500
Toll Free:1-877-ASCERT-IT
Fax: 1-415-339-8501
E-mail: info(at)ascert(dot)com
http://www.ascert.com
For inquiries in Europe, Middle East, and Africa:
Mike Wainwright
Ascert Limited
3rd Floor Signet House
49 - 51 Farringdon Road
London EC1M 3JP England
Telephone: +44 (20) 7488 3470
Fax: +44 (20) 7488 3477
E-mail: ukinfo(at)ascert(dot)com
http://www.ascert.com