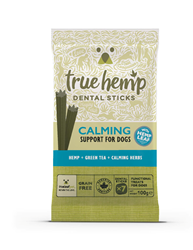 The TRUE HEMP™ dental sticks are now available at all Pets Corner locations in the UK!
LONDON (PRWEB UK) 14 December 2017
True Leaf Pet Europe LLC, a subsidiary of True Leaf Medicine International Ltd. ("True Leaf") (CSE: MJ) (FSE: TLA) (OTCQB: TRLFF), is adding new dental stick products to its successful TRUE HEMP™ product line of all-natural dog supplements available in all Pets Corner stores in the United Kingdom.
With the addition of dental sticks, designed to help maintain good teeth and gums with all the functional benefits of hemp, the enhanced product range now consists of two distinct formats, including the already available TRUE HEMP™ dog chews. Each format is available in three quality of life enhancing recipes: SKIN+COAT™, HIP+JOINT™, and CALMING™.
"We love our pets and strongly believe they should also benefit from the healing powers of hemp," said True Leaf CEO, Darcy Bomford. "That's why we combine hemp with innovative, scientifically-proven ingredients to create our TRUE HEMP™ treats and dental sticks designed to help dogs live long and healthy lives."
Used as a therapeutic agent, hemp promotes healthy cognitive function and normal disposition, and contains omega-3, omega-6 and essential fatty acids that benefit the cardiovascular system. Hemp also contains thiamine, riboflavin and folate that support the healthy function of the heart and nervous system.
The TRUE HEMP™ dental sticks have hit store shelves at all Pets Corner locations in the UK this Winter, with distribution also in Germany and Scandinavia with Southern Europe to follow early next year.
About True Leaf
True Leaf Medicine International Ltd., through its wholly owned subsidiary 'True Leaf Pet', has entered the global pet industry, forecast to reach $117 billion US in 2021,₁ with a line of hemp-focused pet supplements in Canada, the United States and Europe. The company has also filed an application under Health Canada's Access to Cannabis for Medical Purposes Regulations (ACMPR) to become a Canadian licensed producer of medical cannabis through its 'True Leaf Medicine' subsidiary. It has passed through the preliminary and enhanced screening process of Health Canada's review and has recently received approval to build its facility.
http://www.trueleafpet.eu
http://www.trueleaf.com
https://www.facebook.com/trueleafpet/
Media Contact:
Malcolm Elam
malcolm(at)trueleaf.eu
M: +44 7985 608280
Investor Contact:
Kevin Bottomley
Director and Corporate Relations
Kevin(at)trueleaf.com
M: +1 778-389-9933
₁ Source: Petfood Industry / Euromonitor International http://www.petfoodindustry.com/articles/6458-pet-care-market-forecast-to-hit-us117-billion-in-2021?v=preview