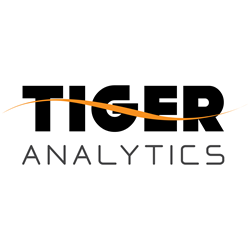 "In my view, the recognition from Forrester is a validation of the significant strides we have made in building new-age analytical approaches to understand and model customer behavior", Mahesh Kumar, Founder & CEO, Tiger Analytics
Santa Clara, California; Chennai, India (PRWEB) November 15, 2017
Tiger Analytics, a leading advanced analytics consulting firm, today announced it has been named a 'Strong Performer' in customer analytics services by Forrester Research in its report, 'The Forrester Wave™: Customer Analytics Service Providers, Q3 2017.' The report is a 33-criteria evaluation of the 10 most significant customer analytics service providers. Download Report.
"In my view, the recognition from Forrester is a validation of the significant strides we have made in building new-age analytical approaches to understand and model customer behavior", said Tiger Analytics' Founder & CEO, Mahesh Kumar. "By applying these approaches across all phases of the customer journey, we have helped our clients design the right customer initiatives and interventions".
In the report, Forrester mentions, "Tiger Analytics is only a six-year-old company, but it has managed to secure hundreds of customer analytics engagements in that time." They also recognize Tiger Analytics' "deep experience in customer analytics for CPG companies that typically struggle with sparse customer data".
Talking about their customer analytics offerings, Tiger Analytics' Co-founder Pradeep Gulipalli added, "We have built Customer Science Suite - a customer analytics solution package consisting of pre-built open source modules that help address a range of common customer analytics use cases such as customer lifetime value, churn risk, cross-sell, migration, campaign response, intervention effectiveness, among others. Our clients have found this very useful in accelerating their analytics journey."
Forrester defines customer analytics service providers as those that help their clients transform customer data into analytical insight to optimize customer decisions and design customer-focused programs and initiatives that drive acquisition, retention, cross-sell/upsell, and targeted marketing campaigns.
About Tiger Analytics
Tiger Analytics is an advanced analytics consulting firm enabling enterprises to generate business value from data. The company brings deep expertise in marketing science, customer analytics, and operations analytics. Today, it is a trusted data sciences and data engineering partner for several Fortune 500 companies.
Tiger Analytics has been ranked by Deloitte as among 50 Fastest Growing Tech Firms in India in 2016. It is headquartered in the Silicon Valley with the global delivery center in Chennai, India.