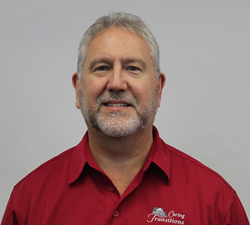 We all face life transitions – it's emotionally challenging and stressful. With Caring Transitions, you just pick up the phone, bring us out for a complimentary consultation and tell us what you need. We can take it from there. - Alan Sack, owner of Caring Transitions of Alexandria
Alexandria, VA (PRWEB) November 14, 2017
Local entrepreneur Alan Sack is pleased to announce the launch of his new small business, Caring Transitions of Alexandria.
Caring Transitions is a full-service company that provides customized plans for space planning, packing, moving, resettling, estate sales, liquidation services and more. Sack and his specially-trained team are uniquely qualified to manage senior relocations, but the services are also perfect for busy families and individuals in need of assistance. Caring Transitions is a national franchise with more than 200 locations throughout the United States and Caring Transitions of Alexandria serves Alexandria, Arlington, Mt. Vernon, Ft. Hunt, Kingstowne, Rose Hill, National Harbor and the surrounding areas.
"Caring Transitions offers the complete service. Whether you're a busy family trying to move across town or you're a family working to resettle a loved one and liquidate an estate, we can handle all the moving parts. These kinds of transitions are always more work and stress than you think, but with Caring Transitions, you have a resource to help you through this emotionally and physically challenging time," Sack said.
Caring Transitions' services are perfect for seniors moving in with family or into a safer living situation as well as busy families and people clearing out the home of a loved one who has passed. All of Caring Transitions' services are customizable, so clients only pay for the services they need – whether that means managing the entire move and estate-clearing or just getting someone resettled into their new place.
Sack's background is in financial services and he recently owned his own leadership development company. When he was ready to switch industries, he thought back to his own experiences with transitions.
"I downsized my parents and my father-in-law into senior communities and then, when my father-in-law passed away, we were looking for someone to help us clear out his apartment. That's when I found Caring Transitions. We hired Caring Transitions in his community to handle the entire process – it was such a relief. When I started thinking about opening a business in a new industry, I thought back to my own experience with Caring Transitions and the rest is history," Sack said.
"We all face life transitions – it's emotionally challenging and stressful. With Caring Transitions, you just pick up the phone, bring us out for a complimentary consultation and tell us what you need. We can take it from there," he added.
Sack lives in the Alexandria area with his wife of 23 years, Kathleen. Caring Transitions of Alexandria is bonded, insured and their W2 employees have been background checked. For additional information, call (703)626-2435, email ASack(at)CaringTransitions(dot)com or visit http://www.CaringTransitionsAlexandria.com.
About Caring Transitions
Caring Transitions, founded in 2006, is the first national franchising concept specializing in senior relocation and transition services. With more than 200 locations throughout the United States all owned and operated by Certified Relocation and Transition Specialists, Caring Transitions provides clients with supportive moves, auctions, rightsizing and transitions. This includes expert advice plus a well-executed transition plan beginning with the initial sorting of personal belongings through packing, shipping and selling of items to the final clearing and cleaning of the property. For more information, visit http://www.caringtransitions.com or visit us on Facebook.