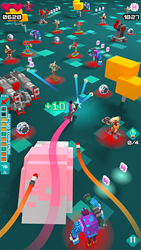 Cupertino, CA (PRWEB) November 14, 2017
After the original Twisty Board was one of the smash hit games of 2016 (and early 2017) — the game was selected by Apple as "Best Arcade Game Of The Month" — developers at LHD Games were faced with the challenge of how to improve an experience that was so well received by reviewers and gamers alike.
The answer is Twisty Board 2: A completely upgraded challenge that allows players to shoot back at enemies using a variety of brand new weapons, across five new battlegrounds and against more fearsome enemies. The first time was just a training ground. Now, the real fight lies ahead.
Key features include:
> Awesome voxel graphics and environments
> A variety of weapons
> New, bigger and more fearsome enemies
> 5 brand new battlegrounds
> Enhanced obstacles
> Unlock 30+ characters & superpowers
> Daily bonuses
> A new in-game recording system to watch and share videos of your performance
In addition to these new features, Twisty Board 2 still offers the same pick-up-and-play gameplay that made the original such a fast-paced and addictive challenge.
Gamers simply tap the screen left or right to steer, with weapons fired automatically when facing enemies — this ensures that no matter how fast and challenging the gameplay becomes (and it will, with the screen filled with enemies, bullets and obstacles at a blistering pace), players of all ages can respond with precision as they push to reach the next stage.
To help their journey, the game also offer daily bonuses, and coins can be used to unlock 30+ additional characters, including: Sumo Dude, Zombie, Granny & Unicorn. Each character has their own weapons and hilarious appearance.
Twisty Board 2 is coming 16th Nov 2017, exclusively or iPhone and iPad, and will be available worldwide from the App Store as a free download.