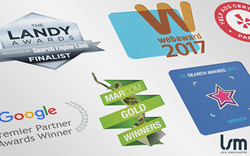 None of this would be possible without the terrific franchise brands we're fortunate to partner with
(PRWEB) November 15, 2017
US Search Awards
LSM wins the 'Best Small PPC Agency' award at the 2017 US Search Awards. The award is given to an agency with a pay-per-click (PPC) department of less than 25 people, and it recognizes agencies that have been able to provide clients with effective Facebook and Google advertising campaigns. Celebrating its fifth year, the US Search Awards marks the largest celebration of search engine optimization (SEO) and online advertising in the United States, attracting hundreds of entries from across North America and beyond.
Landy Awards
LSM's work with Brain Balance Achievement Learning Centers was named a finalist for the 'Best Local Search Marketing Initiative - SEM' award at the 2017 Landy Awards. Presented by Third Door Media, the publisher behind the leading industry publications Search Engine Land and Marketing Land, the Landy Awards recognizes individuals, agencies, and internet marketing teams that demonstrate excellence in organic and paid search marketing initiatives.
MarCom Awards
LSM's clients won gold twice at the 2017 MarCom Awards: once for the 'Grand Opening' landing page template designed for TITLE Boxing Club and again for the 'Special Offer' template designed for Heartland Dental. The MarCom Awards has recognized companies' excellence in marketing and communication for over a decade. The competition is judged by the Association of Marketing and Communication Professionals (AMCP), and it receives around 6,000 print and digital entry submissions every year from countries around the world.
WebAwards
LSM's web development work for KrankFIT was awarded the 'Small Business Standard of Excellence' Award at the 2017 WebAwards. In it's 17th year, the WebAwards recognize individual achievements behind today's top website designs. The competition is judged by industry leaders selected by the Web Marketing Association, and it received over a thousand entries in 2017.
"The LSM team is proud of our recent achievements," says CEO Trevor Emerson. "None of this would be possible without the terrific franchise brands we're fortunate to partner with. We appreciate each and every one of them, and we'll work hard to continue producing award-winning results in 2018 and beyond."
About Local Search Masters (LSM)
Founded in 2006, Local Search Masters (LSM) helps franchises generate more business for their franchisees through user-friendly websites and customized, scalable digital marketing campaigns. We integrate our proprietary lead tracking software, LSM Insight, with our clients' CRM platforms, making it easy for franchisors and franchisees to understand the net revenue generated from our suite of digital services. We're a preferred vendor to 3,200+ units nationwide, and we're here to make "LOCAL" a measurable advantage for your brand.