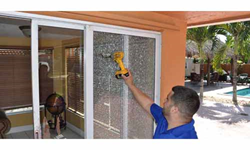 We are moving past prime hurricane season and into the holidays, but sliding glass door emergencies don't slow down
Fort Lauderdale, FL (PRWEB) November 20, 2017
Express Glass and Board Up, a sliding glass door repair service that has received five-star customer ratings in Fort Lauderdale, is proud to announce a new informational page focused on search diversity. Seasonal celebrations can include large family gatherings. Window and patio glass could have survived recent hurricane weather, but may have become weak in the process. Shattered glass on the floor and stormy weather can threaten the safety of guests. The irony is that, linguistically in the diverse Fort Lauderdale area, different customers search for this information in different ways. The new post touches on this linguistic diversity as a topic.
"We are moving past prime hurricane season and into the holidays, but sliding glass door emergencies don't slow down," explained Yaniet Santos, general manager of Express Glass. "Holiday celebrations at homes, offices and restaurants have their share of unexpected accidents. When it happens, we want to make sure the community knows where to go for quick answers, regardless of their linguistic idiosyncracies."
The new information page focused on linguistic diversity for sliding glass door repair issues can be reviewed at http://www.expressglassfl.com/sliding-door-repair/. After recent storms glass doors and windows may have survived, yet suffered undetectable damage. Fort Lauderdale locals might not realize a slight bump to weak door glass could cause it to shatter. Persons interested in learning more about sliding glass door repair, directly, can go to http://www.expressglassfl.com/fort-lauderdale-glass-window-repair/. Details in regard to 24/7 emergency glass repair, window replacement and patio door repair can be reviewed. It should be noted as well that, although the website is in English, the company is Spanish-speaking and interested persons are welcomed to speak Spanish when they inquire about sliding glass door repairs.
Fort Lauderdale Locals Celebrate Diversity in Sliding Glass Door Repair
Here is background on this release. Many Florida residents could be breathing a sigh of relief as the worst of hurricane season may have ended. After cleaning up storm debris Fort Lauderdale locals could be organizing the home for a holiday celebration. If a homeowner has decided to survey the property and prepare it for guests, it may be a good idea to check sliding glass doors and windows. Glass may appear to have survived hurricane-force winds, but could have become weakened in the process. Contacting a glass repair technician to evaluate windows and patio doors may be a smart idea. If "glass door repair" has been entered in the search instead of "sliding glass door repair," mixed results could hinder the process.
Express Glass & Board Up, Fort Lauderdale's leading glass door repair experts have announced a new informational page. A patio door or window may have survived high winds, but could have suffered undetected damage. A homeowner may wish to contact a glass repair technician for a quick consultation before guests arrive to celebrate a holiday. It should not be difficult for a property owner to search for the best sliding glass door repair expert for a consultation. For this reason, a new informational page has been created to accept a variety of search options. If "glass door repair" or "sliding glass door repair" has been entered in the search, both entries can find the same professional support. Fort Lauderdale locals desiring expert glass repair support before a Thanksgiving celebration may appreciate search diversity.
About Express Glass Repair and Board Up
Express Glass and Board Up is a family owned and operated glass repair business with more than 20 years of experience. Their professional technicians and the large variety of inventory make Express Glass the top glass repair service. If customers are looking for Fort Lauderdale 24 hour glass repair as well as glass repair in Delray Beach or West Palm Beach glass repair, please reach out to the company for a free estimate. If customers need a 24/7 Sliding Glass Door repair service in Ft. Lauderdale or Boca Raton or Miramar, technicians are standing by. The company specializes in sliding glass door repair and window glass repair; technicians will handle any glass replacement situation efficiently. Home or business glass repair is the company's main priority.
Express Glass Repair and Board up
http://www.expressglassfl.com/