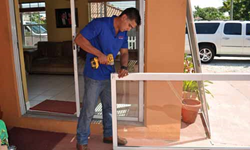 We are very proud of our team's hard work during the most dangerous months of hurricane season
Boca Raton, Fl (PRWEB) November 24, 2017
Boca Raton, Florida
Express Glass & Board Up, a top-rated sliding glass door repair service in Boca Raton, is proud to announce an influx of positive feedback received from the Florida community during hurricane Irma. Fifty-eight separate websites picked up the informational release on the storm. Emergency glass repair tips and support may have been appreciated by Boca Raton and surrounding communities.
"We are very proud of our team's hard work during the most dangerous months of hurricane season," commented Yani Santos, general manager of Express Glass. "The community pulled together to ensure the safety and security of everyone. We feel honored that our outreach was a part of it. Our metrics have just come in and 58 separate websites picked up our information release."
To review the announcement about emergency sliding glass door repair for Boca Raton please visit http://www.expressglassfl.com/blog/sliding-glass-door-repair/boca-ratons-sliding-glass-door-repair-experts-express-glass-releases-dual-alert-emergency-glass-repair/. Over fifty eight separate websites shared the release. The informational blog post was created in lieu of Hurricane Irma and may be a prototype for future alert efforts. As hurricane season begins to subside, Boca Raton residents might consider a repair or replacement of sliding glass doors vulnerable to inclement weather. Boca Raton residents can also learn more about sliding glass door repair services at http://www.expressglassfl.com/boca-raton-fl/. Indeed, those interested in sliding glass door repair services in Boca Raton are urged to reach out for an estimate for any repair work, whether or not it relates to the hurricane activity.
Disaster Plan for Sliding Glass Door Repair Gets a Thumbs Up from Boca Raton Residents
Here is background on this release. Hurricane preparedness may include a long list of items to attend to. It can take an entire community putting individual skills at work in order to survive category four winds. Recent hurricanes in the Florida area may have tested the community spirit of Boca Raton residents. Businesses, community leaders and neighborhoods banded together sharing resources and support to get through one of the worst hurricane seasons in recent years. Overwhelmed locals may not have been able to remember every important item for a smart preparedness plan. A helpful announcement could have been the nudge needed to address vital topics including sliding glass door preparedness.
Express Glass & Board Up has announced an incredible response to emergency sliding glass door repair during the hurricane season. Homeowners and business owners may have appreciated informative posts helping residents to secure homes for dangerous storms. Fifty-eight separate websites posted emergency glass door repair and may have helped Boca Raton locals. Posts including sliding glass door repair, board up services and 24/7 emergency glass repair have been noted as main sources of hurricane preparedness support. Florida cities could have seen the worst of hurricane season for 2017. Boca Raton residents may be relieved to hear sliding glass door repair support is ready to respond to future hurricane preparedness activities.
About Express Glass
Express Glass and Board Up Service Inc. is a family owned and operated glass repair business with more than 20 years of experience. Their professional technicians and the large variety of inventory make Express Glass the top sliding glass door repair service. If customers are looking for Boca Raton glass repair, please reach out to the company for a free estimate. If customers need a 24/7 sliding glass door repair service in Boca Raton, technicians are standing by. The company specializes in glass door repair and window glass repair; technicians will handle any glass replacement situation efficiently. Home or business glass repair is the company's main priority.
Express Glass & Board Up
http://www.expressglassfl.com/
Tel. 561-470-6002