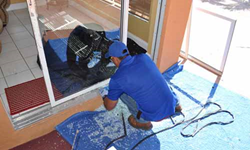 We've heard some Miami residents tell us they didn't want to upgrade their patio doors and windows until after hurricane season
Miami, FL (PRWEB) November 29, 2017
Express Glass & Board Up, the top-rated sliding glass door repair service for Miami and surrounding Florida cities, is proud to announce a new informative post geared to the needs of post-hurricane Miami residents. City residents may have waited to upgrade old patio doors and windows until after the dangerous hurricane season has passed. Sliding glass door repair and replacement, however, could be part of a hurricane recovery checklist.
"We've heard some Miami residents tell us they didn't want to upgrade their patio doors and windows until after hurricane season," commented Yaniet Santos, General Manager of Express Glass & Board Up. "We understand why people waited, but now they can think ahead and get smart upgrades to prepare for future disasters. For this reason, we are posting this informative piece to our website."
To review the new informational post for sliding glass door repairs and upgrades post-Irma, please visit: http://www.expressglassfl.com/blog/window-repair-2/post-hurricane-miami-glass-replacement-todos-repair-old-miami-windows/. Glass door and window upgrades can include the installation of high impact glass for future hurricane-force winds or other disasters. Details for 24/7 emergency glass repair and sliding glass door replacement can also be found. Miami Locals Choose the Right Sliding Glass Door Repair Solution for Future Threats.
BACKGROUND ON THE RELEASE
Here is background information on the news. Florida residents may be winding down from post-hurricane clean up and looking ahead. If a Miami local has decided the time is right to consider sliding glass door repair or replacement, the next choice could be to review various glass types. Each situation can require a different answer. A Miami condo sporting beach-front views and direct sunlight may require special UV blocking window glass to protect a home. Insulated glass could help keep energy bills from reaching budget-busting prices. If Florida resident have decided to invest in Miami's best sliding glass door repair and replacement service it might be helpful to know support can be located easily.
For this reason, Express Glass & Board up has announced a new post-hurricane article. Florida residents searching for an upgrade to a glass door or windows can learn how to take the next steps. A season for dangerous storms may have passed, but other glass emergencies could be around the corner. Choosing the right glass for a specific property may be key to a successful sliding glass door replacement project. An oceanfront restaurant in Miami may require hurricane resistant glass to survive future storms. A store owner may consider high impact glass to help secure a property from vandalism. Post-hurricane clean up can include looking at the future security of a home or business. Tips from a top sliding glass door repair service might offer smart solutions.
ABOUT EXPRESS GLASS REPAIR AND BOARD UP
Express Glass and Board Up Service Inc. is a family owned and operated glass repair business with more than 20 years of experience. Professional technicians and the large variety of inventory make Express Glass the top glass repair service. If customers are looking for West Palm Beach window glass repair as well as glass repair in Delray Beach or Miami glass repair, please reach out to the company for a free estimate. If customers need a 24/7 Sliding Glass Door repair service in West Palm Beach or Boca Raton or Miramar, technicians are standing by. The company specializes in sliding glass door repair and window glass repair; technicians will handle any glass replacement situation efficiently. Home or business glass repair is the company's main priority.
Express Glass Repair and Board up
http://www.expressglassfl.com/