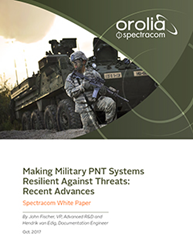 ROCHESTER, N.Y. (PRWEB) November 15, 2017
Spectracom, an Orolia brand and the global leader in resilient PNT (RPNT) solutions, has announced the availability of a new white paper focusing on recent advances in hardening military PNT systems. The proliferation of GNSS-degrading and denying devices across state and non-state actors can put soldiers and communications systems in jeopardy. Traditional PNT devices utilize various alternative internal components to maintain holdover of the PNT data during loss of GNSS input, but are susceptible to drift over time.
The white paper details evolving technologies to make PNT systems more resilient, and covers:

Evolution of Assured PNT
A Recap of GNSS: Strengths and Weaknesses
Examples of Jamming and Spoofing
Interference Detection and Mitigation
Smart Reference Monitoring Software
STL - Satellite Time and Location Solutions
Interference Testing
Authored by noted industry expert John Fischer, vice president of advanced research and development at Spectracom, and Hendrik van Edig, documentation engineer, the white paper is written for technical and non-technical professionals involved in planning, designing and deploying PNT systems. Resilient PNT systems are used where even the smallest discrepancy in data accuracy, availability and stability can result in a mission failure, loss of life, or battlefield disadvantages, and significant economic loss.
Download "Making Military PNT Systems Resilient Against Threats: Recent Advances" at https://spectracom.com/Resilient-PNT-White-Paper.
About Spectracom
Spectracom (http://www.spectracom.com), an Orolia brand, is the global leader in resilient positioning, navigation and timing (RPNT) solutions that improve the reliability, performance and safety of critical, remote or high-risk operations. Capabilities include precision references, signal generation, reception, synchronization, distribution, test & validation, simulation, integration, interference, detection and mitigation, real-time-embedded systems, and technical/support services.