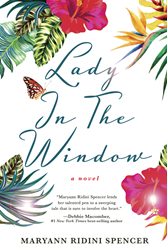 Maryann Ridini Spencer writes beautifully with great insight into the human heart. This is a story that will stay with you for a long time." - Nelson DeMille, #1 New York Times best-selling author
NEW YORK (PRWEB) November 16, 2017
Online Press Kit, VIDEO Book Trailer & Author Q&A VIDEO: "Lady in the Window" Press Kit
"Lady in the Window" VIDEO BOOK TRAILER
Kate Grace is the main character in "Lady in the Window" (SelectBooks, Inc., $24.95; ISBN: 978-1-59079-407-4), a novel by award-winning screenwriter and producer Maryann Ridini Spencer. She seemingly has it all until she comes face-to-face with trials and tribulations we all experience at one time or another in our lives — the death of a loved one, the breakup of a romantic relationship, and the desire to find one's authentic place in the world.
So how does a person heal from a painful loss or from a dramatic upheaval in their life?
"Lady in the Window," Winner of the 2017 Best Book Award (Fiction: Romance) and Finalist (Fiction: Chick Lit/Women's Lit), sponsored by the American Book Fest, has received numerous accolades from critics and media personalities calling it a "must- read." Best-selling authors are equally impressed, stating "...Spencer writes beautifully with great insight into the human heart." (Nelson DeMille, #1 New York Times best- selling author), and referring to the books as "a sweeping tale sure to involve the heart" (Debbie Macomber, #1 New York Times best-selling author). Most are in agreement that this book is more than a simple work of fiction, it is an inspiration to the broken-hearted and disenchanted and a blueprint of how to achieve personal and professional happiness.
Spencer, an award-winning screenwriter and producer, noted for writing the teleplay for the Hallmark film "The Lost Valentine" starring Betty White and Jennifer Love Hewitt, draws from personal experiences and her home in Hawaii and weaves a universal work for women who have undergone similar events in their own lives.
"Before I sat down to write 'Lady in the Window,'" said Spencer, "I had an idea that I wanted to write about a spirit helping a loved one on earth to find healing and direction. As I plotted out my book's progression, as many authors do, I found myself incorporating little bits and pieces from my life that served the theme. Then, after my dear mother passed...the story of 'Lady in the Window' just unfolded for me."
"Plotting out a path to over coming great loss was intentional," continues Spencer. "As was incorporating the 'Way of Aloha' and living in 'The Spirit of Aloha,' because there is much to learn about humanity's connectedness and the joy and contentment we all hope to find in life by doing so."
In "Lady in the Window," Kate's journey experiencing loss, heartbreak, and betrayal is made a little less painful when her new friend, Olivia Larkin a 42-year-old African-American woman who is also a celebrity talk show host, generously offers Kate respite in a charming guest cottage bordering Kauai's Hanalei Bay. Olivia is the living embodiment of the Aloha spirit and once Kate steps foot on the magical Garden Isle, she begins her enchanting journey of healing. This process of self-discovery puts her on a course to find her authentic self, as well as her heart's fulfillment, themes which serve to offer inspiration, hope and healing to all who read "Lady in the Window."
"'Ohana,' is the Hawaiian word for family," said Spencer. "It is your blood family, your friends, your work associates, and community. When Olivia notes her friend Kate's distress, she offers Kate, in her ohana circle, Aloha and a place to regroup. As Kate allows herself to just 'to be' and quiet time in the womb of nature, wonderful, magical
things begin to transpire, and she taps into a strong intuition, realizing that we are all connected, and that those we love never die. Under God's will and direction, she discovers, our destiny is made clear...if we are willing to be open to the signs."
"Lady in the Window" is available wherever books or e-books are sold. Hardcover and eBook also available at Barnes & Noble: http://bit.ly/2lOIotS & Amazon: http://amzn.to/2qD4YVO. To find out more about "Lady in the Window" and Maryann, visit: MaryannRidiniSpencer.com and Lady in the Window. Follow Maryann on Facebook.com/MaryannRidiniSpencer
http://Twitter.com/MaryannRSpencer
###
Maryann Ridini Spencer is an award-winning screenwriter/producer, author, food and lifestyle journalist, and TV host ("Simply Delicious Living," KVCR PBS-TV and VenturaCountyStar.com). She has executive produced/produced movies and series for such networks as CBS-TV, Showtime, SyFy, The Movie Channel, USA Networks, Time Warner Cable, and the foreign theatrical market. Maryann is celebrated for co- producing/writing the teleplay for the Hallmark Hall of Fame CBS-TV World Premiere of "The Lost Valentine" (based on the novel by James Michael Pratt), starring Betty White and Jennifer Love Hewitt. Upon its debut in 2011, the award-winning film won CBS-TV the night in ratings with over 15 million peopled tuning and became Hallmark Hall of Fame's highest rated film in four years. Now considered a Hallmark Classic, the film airs annually on the Hallmark Channel and is part of Hallmark's Gold Crown DVD Collector's Edition. Visit maryannridinispencer.com