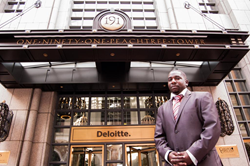 Life Is To Short To Be Working For Someone Else's Dream
Atlanta Georgia (PRWEB) November 15, 2017
Start Thinking Forward Inc., a leading provider of business and sales leadership training programs, has launched a new coaching and training regiment to their arsenal: The Business Building Blueprint coaching program is designed to help struggling business owners and entrepreneurs get a comprehensive understanding of operations, sales, and marketing in a competitive robust marketplace. Start Thinking Forward Inc., CEO Brandon L. Draper believes this innovative approach is perfectly aligned with the much-needed business progression of entrepreneurship in our current state of economic expansion in comparison to other neighboring nations. Based on statistical data from the U.S. Bureau of Labor Statistics a overwhelming number of new businesses never see past year one. He stated, "This is a status quo or cliche of sorts that is over referenced and needs to abruptly be changed in the wealthiest nation in the world."
"It's our civic duty to help struggling entrepreneurs to position themselves with the right resources, tools, and experts at their disposal". No time in history have we seen the incredible impact of social media as a selling tool which delivers products and services directly to the consumer and this is something many companies will regret later on and would have wished they had acquired these unique skills, stated Draper. "Most business owners, and sales leaders don't know the first thing in leveraging social media for sales growth which is a drastic game changer with an immediate competitive advantage for any organization that employs it", he continued.
To deliver its new Business Building Blueprint coaching program, Start Thinking Forward has aligned with the same principals of integrity and craftsmanship of some other renowned experts, trainers and speakers like Dr. John C. Maxwell, Tony Robbins, and Grant Cardone to deliver services with a state of the art platform and direct one on one, group instruction, and strategic business consulting. Start Thinking Forward's Business Building Blueprint coaching program enrollment is open for immediate students and businesses looking to expand their client base and increase their overall profits over this comprehensive 90-day coaching program.
Brandon, continued by stating "I want people to know that there are high level business practitioners and trainers around the U.S. that support entrepreneurship and while we have President Donald J. Trump in office a true American business pioneer and entrepreneur in his own right, who despite media controversy truly understands the importance of small business, and economic stimulation and how these factors have a direct and immediate impact on the U.S. economy." We must put aside our differences to ensure our proper economic positioning in the international marketplace in comparison to other nations around the world that are capitalizing on the available technology and entrepreneurial resources. Start Thinking Forward Inc. is posed and positioned to spearhead the countries entrepreneurship mission here and abroad.