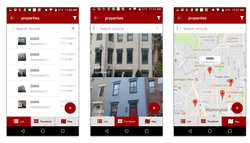 A new app that works the way you do, and collects the data you want, at a price that we know you'll like.
WASHINGTON (PRWEB) November 30, 2017
Magpi, the mobile data collection company relied upon by thousands of companies, non-profits, and governments around the world, has announced a redesigned-from-the-ground-up version of their Magpi mobile app: Magpi Plus.
Magpi Plus introduces several new question types, including barcodes, QR codes, NFC tag reading, signatures, sketches, drag-and-drop ranking, and soon fingerprints — all in a beautiful cross-platform app built with the latest mobile technologies.
"We've taken more than a decade of user input and have used it to create a new app that works the way you do, and lets you collect the data that you want, at a price that we know you'll like," says Joel Selanikio, CEO of Magpi.
As a single app that runs natively on both Android and iOS, Magpi Plus reduces training and support costs. New features in the works include integration with Facebook Messenger and other SMS-like messaging systems for data collection, grid questions, two-way synchronization of data, more Enterprise features for large organizations managing diverse work groups, and more.
About Magpi
Magpi is a leading provider of configurable, cloud-based mobile data and communication applications that enable users in the field to quickly and easily collect and visualize data. Magpi enables organizations across various industries to easily and cost-effectively develop flexible and robust mobile forms, access real-time data, and generate outgoing SMS and voice messaging campaigns. Founded in 2003, Magpi leverages its extensive experience in data science, mobile fieldwork, international development, and global health to provide mobile data collection for countless organizations in the NGO/nonprofit, international development, and commercial markets, including the International Federation of the Red Cross, Oxfam, DARPA, Chemonics, Deloitte, UNICEF, WHO, the World Bank, and CDC. More than 80,000 users in over 200 countries have used Magpi, shouldn't you?
For more information, visit http://home.magpi.com and follow us on Twitter @Magpi_Mobile.