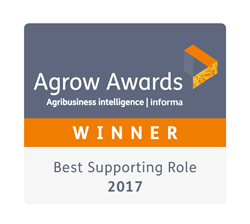 "Congratulations to EPL BAS on their 2017 Agrow Award win," said Sanjiv Rana, Editor in Chief, Agrow.
NIANTIC, Ill. (PRWEB) November 15, 2017
EPL Bio Analytical Services (EPL BAS), Niantic/Harristown, IL, is once again a winner for the annual Agrow - Best Supporting Role Award. This prestigious international award recognizes the company that has contributed most to the global crop protection and improvment industry through the provision of support services. Judges look for a company that offers outstanding client support, excellence in service provision and a willingness to go the extra mile for its customers. Winners in other categories include Dow AgroSciences, Certis USA, and DuPont Crop Protection. "Congratulations to EPL BAS on their 2017 Agrow Award win," said Sanjiv Rana, Editor in Chief, Agrow. "The awards highlight the best in the crop protection industry. We are continually amazed at the innovation exemplified by the winners. We applaud them for their hard work."
CEO, Robin King, adds, "EPL Bio Analytical Services is so honored to be a winner at the 2017 Agrow Awards in London this year. Winning this award is such a great way to end our 30th-anniversary celebration." Since 1987, EPL BAS has provided globally recognized Good Laboratory Practice (GLP) compliant contract analytical laboratory support for crop protection product regulatory submissions, safety and nutrition evaluations of genetically modified crops, and analysis of feed and food ingredients. We have continued to demonstrate leadership in the agricultural industry through the implementation of new technology, methods and processes for data generation and assessment in pollinator health studies in collaboration with others in the agricultural industry. EPL stands for Excellence, Passion, and Leadership in the Ag industry and winning this award adds to the sense of accomplishment and pride that our employees take in the services that we provide in agriculture."
About EPL Bio Analytical Services
EPL Bio Analytical Services (EPL BAS) is an award-winning, Good Laboratory Practice-compliant (GLP), ISO 17025-accredited analytical contract lab. Our vision is to be the "most trusted analytical laboratory in the Ag Industry." EPL BAS serves the global agricultural industry by analyzing feed and food ingredients, organic products, genetically enhanced crops, bio-pesticides, plants, algae, plant protection agents and crop chemicals. With the goal of providing safe, healthy, and abundant food while protecting and improving the environment, EPL BAS uses advanced innovative technology in the areas of nutritional chemistry, agricultural chemistry, including residue and product chemistry, and molecular biology to provide excellent, timely support our industry. We don't have an Ag Division…because we are Ag!Visit us at http://www.eplbas.com, Facebook, LinkedIn and Twitter.
EPL Contact Information:
Robin King
CEO EPL BAS
rking(at)eplbas.com
217-963-2143 Ext. 124