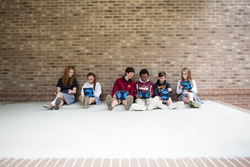 "We're excited to leverage this data and empower our community to cultivate learning environments that are as productive, engaging and safe as they can be." -Brian Thomas, President & CEO, Lightspeed Systems
AUSTIN, Texas (PRWEB) November 17, 2017
Lightspeed Systems, the leader in K-12 education web filtering and mobile device management, has opened a data science department to turn its data and reporting into valuable analysis to help schools make smarter decisions; drive informed policies; and ensure the success, safety, and productivity of every student.
Lightspeed Systems has been in the business of filtering schools since 1999, collecting secure data from K-12 districts that illustrate how staff and students use the internet and school devices. With this insight into web activity and device usage, Lightspeed is uniquely positioned to provide trend, comparative, and behavioral analysis about student digital behavior — on the individual, school and district levels as well as globally. The interpreted data will aid K-12 schools as they plan curriculum and instruction; establish policies for appropriate device use and student behavior; identify and address student safety threats; and more.
Lightspeed Systems Data Scientist Gamble Ruff — who has previously worked in data science at companies including Asurion, Just Energy and Civitas Learning — will spearhead the project, interpreting data gathered by the Lightspeed Systems Web Filter and Lightspeed Systems Relay for Chrome.
"By digging through the data coming out of Lightspeed Systems solutions, we'll be able to create context for students, classrooms, grades, entire school districts, and so many other demographics," Ruff says. "Once we curate this data, we'll be able to create compelling stories and improve decision-making for parents, teachers, administrations and IT."
Customers can expect even more reporting tools and advanced insights, both within their Lightspeed Systems solution and through published reports and best-practice guides. Of course, the strictest student data security and privacy requirements will always be met.
"Lightspeed has been in education technology for almost 20 years, and our long history of working with schools is one of the things that has always set our business apart from the pack," says Lightspeed Systems President and CEO Brian Thomas. "We're excited to leverage this data and empower our community to cultivate learning environments that are as productive, engaging and safe as they can be."
To learn more about Lightspeed Systems, visit http://www.lightspeedsystems.com
About Lightspeed Systems
Lightspeed Systems partners with schools to make learning safe, mobile and easily managed. Partnered with 6,500 districts in the United States and 25,000 schools around the world, Lightspeed Systems offers integrated solutions for smarter K-12 school networks: Web Filter, Mobile Manager, Management Bundle for Windows, and Relay for Chrome. To learn more, visit http://www.lightspeedsystems.com.
— ####### —