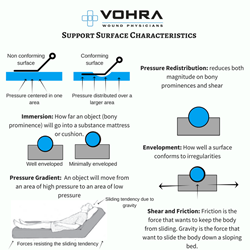 "Anything we can do to keep these debilitated patients from having additional wounds, certainly is in the best interest of everyone," Dr. Keith Bucklen, M.D.
MIRAMAR, Fla. (PRWEB) November 16, 2017
Vohra Wound Physicians has helped heal more than 1 million wounds across the United States. That's a huge benefit for a patient population in need of physician specialist care. However, Vohra is equally proud of the wounds its physicians have helped prevent. Vohra Wound Physicians stands with the National Pressure Ulcer Advisory Panel in recognizing Worldwide Pressure Injury Prevention Day today. Worldwide Pressure Injury Prevention Day was first observed in 2013 and is growing in recognition from many governing bodies across the world.
A Pressure Injury is damage to the skin and/or the underlying soft tissue, usually over a bony prominence. You may know of them as bed sores or pressure ulcers. These injuries are common in the non-ambulatory geriatric population. Turning and repositioning of these patients is important for prevention, as is the use of various off-loading devices and mattresses to redistribute the pressure.
Vohra Wound Physicians Chief Medical Officer Dr. Shark Bird, MD, CMD, CWSP, says the company puts a focus on making sure pressure injury prevention is a big part of its education to nurses and to the patients themselves. "Pressure Ulcer prevention and treatment in the post-acute setting is a growing problem. Vohra is the national leader in onsite physician services providing wound care to patients in the convenience of the post-acute setting. Additionally, Vohra provides training and education to the frontline nursing staff to raise the bar for wound care delivery."
Vohra offers formal education on pressure injury prevention as a part of its Wound Care Nurse Certification Course. In addition, the Vohra physicians are educating nurses and patients daily as a part of their wound rounds in skilled nursing facilities.
Vohra Regional Clinical Lead Dr. Keith Bucklen, MD sees the positive results of ongoing education in the skilled nursing facilities he services in North Carolina. "One of the things we offer our facilities is in-service training. Educating wound care nurses and the whole nursing staff at a facility about not only treating wounds but preventing wounds is one of our responsibilities. Pressure wounds are common with the demographic we work with. These folks are very susceptible to acquiring pressure wounds. So, anything we can do to keep these debilitated patients from having additional wounds, certainly is in the best interest of everyone. Vohra emphasizes this initiative and we pass that knowledge along to our facilities."
Vohra Wound Physicians is the Nation's largest provider of wound physicians in post-acute care, with 245 physicians and growing. Vohra provides weekly physician-led bedside wound management to more than 2500 skilled nursing facilities in 27 states.