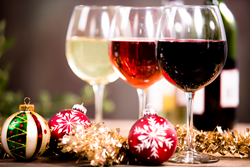 I use Tastings.com as a holiday buying guide so I never have to sacrifice quality when I'm seeking a bargain.
CHICAGO (PRWEB) November 15, 2017
The results of the world's largest value wine competition, The World Value Wine Challenge, have just been released. Tastings.com's professional panel of highly qualified wine judges tasted over 500 wines and only the most luscious, balanced, delicious wines made the cut for their recommendations. From lush, tropical Rieslings to palate-stimulating Shiraz, the mouthwatering medalists from this year's competition make perfect pairings for family get-togethers, holiday parties, and Thanksgiving dinner. The best values on the market are conveniently showcased on Tastings.com, making this year's results the perfect holiday wine buying guide to get the most out of your holiday budget.
Becci V West of Chicago, IL makes heavy use of the results during the holiday season. "Tastings.com is my holiday life-hack." she says. "We host large family gatherings and I even throw a wine and cheese party for New Year's. It can be tough to find wines that fit my budget and my discerning guests' palates. I use Tastings.com as a holiday buying guide so I never have to sacrifice quality when I'm seeking a bargain."
Highlights of the competition represent a diverse group of wine styles ready to meet the needs of any gathering. With over 500 wines achieving a bronze medal or higher, there's an affordable bottle for every kind of wine lover.
Check out these great wine pairing ideas:
For Turkey: 90 point Manos Andinas 2015 Reserve Pinot Noir is a natural pairing for classic turkey with all the trimmings. Alternately, Zonte's Footstep 2016 Love Symbol Grenache is a great choice for the Thanksgiving kitchen innovator. Forward-thinking home cooks will love pairing pumpkin-sage ravioli with this "decadently delicious" Aussie Grenache packed with spicy berry flavors.
For Cheese: Why not offer the Gold Medal-winning La Playa 2017 Estate Series Sauvignon Blanc as your festive aperitif? At 8 bucks a bottle, this is one of the best values on the market to pair with a goat cheese en croute for your New Year's Soiree.
For Beef: Christmas prime rib is just begging for Villadoria's 2013 Bricco Magno Nebbiolo. At just $14.99 you'll be hard-pressed to find a more exceptional value in Nebbiolo.
Seeking to celebrate with bubbles? Pop a luxurious 92-point French Champagne, the Louis Revoir NV Cuvee Prestige Brut. Impress your guests with this super-sophisticated sparkler; you'll be the only one that knows it cost less than twenty dollars.
With all the chaos of preparing for the holidays, educated tipplers love how easy Tastings.com makes it to find their favorite award-winning wines. Their Buy It Now button on each high-scoring wine's page effortlessly pulls up a list of all the shops that carry the bottle. For a complete list of winners and your holiday wine buying guide visit Tastings.com.