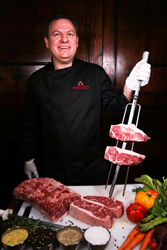 Houston, TX (PRWEB) November 15, 2017
Local residents will be able to celebrate Thanksgiving lunch and dinner from 11 am-8 pm with loved ones at Avenida Brazil on Thanksgiving Day, Nov. 23. The restaurant will be serving a high energy, Brazilian style buffet meal with grilled steaks and seafood with traditional Thanksgiving buffet fixings including a 48 hour marinated turkey, sweet potato casserole, cranberry sauce and more.
"After a crazy year, this is the day to spend time with your loved ones and appreciate what you have." Melissa Abrantes, Avenida Brazil marketing director said. "We want to provide the opportunity for families to be together and enjoy our endless Brazilian style signature cuts of meat served straight from the grill along with our freshly baked cheese bread and salad bar. Plus we will do all the clean up!"
Avenida Brazil Churrascaria Steakhouse offers diners a full all-you-can-eat Brazilian dining experience and is led by Executive Chef Vanderlei Bernardi.. From the traditional Picanha top sirloin steak and Filet Mignon served tableside to delicious shrimp and fresh salmon - Avenida Brazil Churrascaria Steakhouse has all of the best Brazilian steak and seafood offerings.
They have three locations to choose from – Southwest Houston/Fort Bend at 12000 SW Freeway or in Clear Lake/Webster at 201 W. Bay Area Blvd. and Woodlands is 1400 Reasearch Forest Dr. Phone numbers are: SW Freeway location 281-277-9292 ./ Bay Area Blvd 281-557-9999 / Woodlands 281-651-5369.
More information about Avenida Brazil Churrascaria Steakhouse is also available on their website at http://www.avebrazil.com.