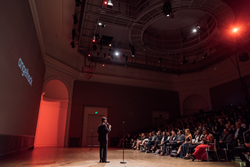 it was our first time pitching in front of an audience full of important Angels, VCs and professionals in the tech sector. In just a few days, we have learned more than we would have in a month.
SAN FRANCISCO (PRWEB) November 15, 2017
AngelHack launched 16 of their best performing companies at Global Demo Day (GDD) November 2nd, 2017 at the Wilsey Center for Opera in front of AngelPad, Backstage Capital, Boost VC, TechCrunch, Women's Startup Lab, Techstars, 500 Startups, RocketSpace, and over 150 investors. Various office hours, interviews, and office spaces were given away to an estimated 70 percent of companies.
After AngelHack's 12-week pre-accelerator program, the HACKcelerator, the top five percent of startups sourced from all over the world came as far as Austin, Hyderabad, Jaipur, London, Shenzhen, Lima, and more to pitch in Silicon Valley; where various later-stage accelerators, venture funds, and investors gather to gain early-access to graduating AngelHack companies.
"Pitching in Silicon Valley was a very big challenge but, one of the best experiences," said David Riudor, CEO of Goin, a blockchain enabled mobile platform that encourages millennials to save and invest through machine learning. Founded during AngelHack's 10th Global Hackathon Series in Barcelona and already in full Beta, Goin was crowned overall winner of this year's GDD. He went on to say, "it was hard because we are not native English speakers and it was our first time pitching in front of an audience full of important Angels, VCs and professionals in the tech sector. In just a few days, we have learned more than we would have in a month. Winning AngelHack was awesome because now by telling people from the Bay Area that we have this award, they trust you making it easier to arrange meetings and facilitate partnerships."
Additional prizes were given out by Boost VC who awarded an interview to SolarIoT, a cooperative decentralized solar energy smart grid on the ethereum Blockchain that allows users to invest in solar panel projects through cryptocurrency founded by a 17 and 15 year-old from Los Angeles. Women Startup Lab supported AngelHack's female-founded companies and opened up an additional four interviews after seeing all 16 companies. In total, Women Startup Lab gave away a total of six interviews to the following companies from Brisbane, Bogota, Cincinnati, San Francisco, Quito, and Taipei:

ShelterSpace, a company creating better organizational tools for homeless shelters in the Bay Area.
FlashBeer, a hardware device that allows you to pour and pay for your own beer without leaving the table.
Delfinite, a consumer insights company that leverages voice interface devices to connect companies with their customers.
Fabricycle, an e-commerce platform to sell or to recycle people used clothes.
StageCrew, a tool to create teams that can visualize and manage technical information for live shows.
TobyPro, a platform using blockchain technology to allow equity transfer between homeowners and renters.
"Having raised the female to male attendance at our hackathons by 20 percent, our partnership with companies who focus on female founders such as Women's Startup Lab couldn't come at a better time", said Sabeen Ali, CEO of AngelHack. "This year, almost 40 percent of the 16 companies who were invited to pitch in Silicon Valley had female-founders. Something we expect to see continue to rise over the next couple years," she added.
Other mainstream accelerators such as AngelPad, Techstars, and 500 Startups, gave out interviews and office hours awarding ImposterBlocker, a first responder for brand identity infringement from Seattle; and Goin who also took home overall grand prize. Companies from previous AngelHack's GDD events have added to the $70 MM HACKcelerator portfolio valuation, undergone major expansions, and have been acquired by tech giants including Box and Google within months of the event.
For more information about AngelHack's Global Demo Day, or the emerging startups from AngelHack's HACKcelerator program, please contact Kelsey Ruiz at (415) 754-0261, or email her at: kelsey(at)angelhack(dot)com.
About AngelHack:
AngelHack, a female-owned, female-majority company is the world's largest and most diverse developer ecosystem, helping to drive open innovation of tech products, platforms and brands with extraordinary smarts, scale and speed. Known as pioneers of global hackathons for more than five years, AngelHack's 130,000+ developers, designers, and entrepreneurs around the world compete to build, test and launch new solutions over the course of a weekend. The HACKcelerator program and other education initiatives connect ambitious developers with thought leaders and experienced entrepreneurs to help them become more versatile, entrepreneurial and successful as change-makers. Find out more at http://www.angelhack.com.