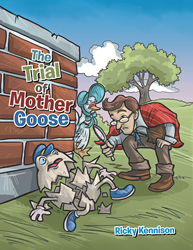 KANSAS CITY, Mo. (PRWEB) November 27, 2017
A Missouri-based children's fiction author has released an entertaining picture book that twines criminal justice topics with quintessential storybook characters in a light-hearted reimagination of the tale of Humpty Dumpty.
In "The Trial of Mother Goose," author Ricky Kennison revisits Humpty Dumpty's demise from the perspective of the ambitious Detective Charles, who reopens the classic character's cold case. As the detective homes in on his prime suspect, Mother Goose, a courtroom drama unfolds and an eclectic cast of characters, including the three blind mice, Pinocchio and Moby Dick, offer up alibis, observations and testimonies.
"Although in some regard the legal mechanizations of the justice system are beyond the understanding of many youngsters and toddlers, the story isn't bogged down with realism – instead if goes off the tracks of logic into the world of imagination and humor," a reviewer for the Pacific Book Review wrote about the book. "This is a book which is as much fun for the adult reading it to their child as to the kid itself."
Through its use of humorous quips, vibrant illustrations and relatable storybook references, "The Trial of Mother Goose" puts forth a nostalgic, easy-to-read tale that introduces children to the criminal justice system and basic courtroom and law enforcement topics.
"The Trial of Mother Goose"
By Ricky Kennison
ISBN: 978-1-5246-9324-4 (paperback); 978-1-5246-9323-7 (electronic)
Available at the AuthorHouse Online Bookstore, Barnes & Noble and Amazon
About the author
Ricky Kennison holds a bachelor's degree in engineering technology from Missouri Western State University and is the author of children's books "Stories for You," "Lilley the Pizza Mouse" and "The Trial of Mother Goose." In his free time, Kennison enjoys writing and coin collecting. He currently resides in Kansas City, Mo. To learn more, please visit http://www.rickykennison.com.
###
Review Copies & Interview Requests:
LAVIDGE – Phoenix
Danielle Grobmeier
480-648-7557
dgrobmeier(at)lavidge(dot)com
General Inquiries:
LAVIDGE – Phoenix
Maggie Driver
480-998-2600 x 584
mdriver(at)lavidge(dot)com