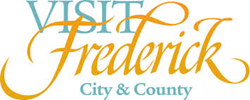 Frederick, Maryland (PRWEB) November 15, 2017
Visit Frederick was honored to receive two awards during the annual Maryland Tourism Coalition (MTC) Summit on November 9, 2017. Visit Frederick received the 2017 award for "Best Website" and Melissa Joseph Muntz received the 2017 award for "New Professional of the Year".
The "Best Website" award is given to a website that demonstrates a creative implementation of a brand that is visually pleasing, unique, that captures the spirit of the brand, and is user-friendly. Visit Frederick's new website, VisitFrederick.org, launched in March 2017 after months of planning and preparation. The new website provides an easy way for visitors from outside of the area to access information about Frederick, Maryland from any device during any stage of their visit including inspiration, planning, and in destination. The website showcases Frederick's hip and historic brand, blending a fun and modern layout with more traditional fonts and textures.
Visit Frederick's previous website was built primarily to be viewed on a desktop computer and was supplemented by a bare bones, not responsive mobile site. However, over the last few years, an increasing number of visitors to the website were viewing it from a mobile device. In 2016, the number of visits to the website on a mobile device surpassed the number of visits to the website on a desktop computer. This change only reaffirmed the fact that Visit Frederick needed a responsive website for mobile users, and one that was just as functional as the desktop site. The new website gives visitors complete access to all of the great information available on the site from any type of device. If a visitor has already arrived in Frederick, they will be able to see what restaurants, lodging, and attractions are nearby.
The New Professional of the Year Award is given to a newcomer to Maryland tourism whose spirit and commitment exemplify the ideal of our profession. In less than two years, Melissa Joseph Muntz has made a tremendous impact on the tourism industry in Maryland. Melissa simultaneously led and managed the building and launch of both Visit Frederick's new website and customer relationship management system, a huge undertaking. In her short time in the industry, Melissa has created and managed three regular tourism newsletters, created and hosted numerous press tours and events, and continues to amplify Visit Frederick's social media presence.
For more information, please contact Melissa Joseph Muntz at Visit Frederick.
Visit Frederick is the recognized Destination Marketing Organization for Frederick City and Frederick County, Maryland. It operates the Frederick Visitor Center and related Visit Frederick programs that include Destination Marketing and Group Tour Marketing. For more information about Visit Frederick, visit http://www.visitfrederick.org or call 301-600-4047.