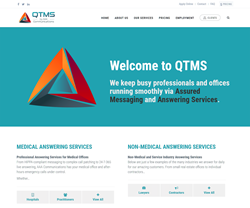 Currently, almost all of our new business is acquired through word-of-mouth referrals coming in from a long-list of happy customers.
TAMPA, Fla. (PRWEB) November 18, 2017
As of November 2016, AAA Communications was a Tele Messaging company offering secure messaging, call patching and virtual answering services provided by a well-trained customer service team focused on personalized client interactions. For over 30 years they have served a large variety of industries and businesses but due to a very limited online presence, the focus was always on local business and very targeted sales within certain counties and cities.
"Currently, almost all of our new business is acquired through word-of-mouth referrals coming in from a long-list of happy customers", says Nathan Vaccaro, owner and son of Dr. Vaccaro, the founder of AAA Communications Inc. It is also important to note that while the company is setup and capable of serving customers in any location nationally, due to the lack of online presence, most of their customers are located within a few hundred miles of AAA's actual offices.
With the new website and recently rebranded and launched social media accounts, AAA is poised to not only better connect with existing customers through the new website's resources, but their national reach has hit new levels and happily they can now offer Virtual, Emergency and After-Hours Answering Services to businesses in areas that don't have any local answering service companies or in the event that those companies don't offer the same competitive pricing and flexibility AAA Communications does.
Other resources now available through the newly redesigned and envisioned QTMS.com include, convenient and secure, customer portals for viewing and managing messages and calls, answers to common answering service and account questions, an online application and other internal employee tools, a quick and easy quote request form along with common packages and pricing recommended by industry and call volumes. There is also some interesting information for those who would like to know more about AAA Communication's history along with the general Answering and Tele Messaging industry.
About QTMS by AAA Communications
AAA Communications is a nationwide data center operation focused on Telephone Answering and Tele-Messaging services with a redundancy, security and reliability unmatched by our competition. We are HIPAA Compliant and service a large variety of industries including Doctor and Dental Offices, Hospitals, Nursing Homes, Real Estate Companies, Service Companies, Law Offices and more. For more information about AAA Communications and our services, visit: QTMS.com.