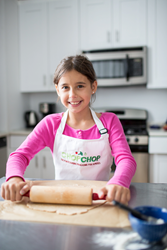 BELMONT, Mass. (PRWEB) November 15, 2017
ChopChop Kids, the non-profit behind the award-winning ChopChop: The Fun Cooking Magazine for Families, is encouraging kids to cook this holiday season.
The James Beard award-winning magazine is filled with delicious, diverse, healthy and kid-tested recipes. Kids will learn the essential life skill of cooking real food at home with step-by-step How-To's, plus tips for shopping and storing ingredients in every issue. And for a limited time, ChopChop is offering a special gift set just in time for the holidays: a 1-year subscription plus an exclusive embroidered ChopChop cotton apron for just $35.
A subscription to ChopChop Magazine plus an apron make the perfect holiday gift for curious cooks and food-loving families. The winter issue (ships November 15, 2017) features inspiring edible gifts such as Spicy Roasted Nuts, Roasted Granola, and Roasted Peppers. This issue also includes tips on roasting everything from bananas to radishes, plus other great-tasting and healthy recipes kids will love making with their families.
Endorsed by the American Academy of Pediatrics and winner of the Parents' Choice Award, ChopChop is an ad-free, quarterly magazine families turn to for inspiration and tips to cook together as a family. For a limited time, order a one-year (4 issues) subscription and get a ChopChop apron, for just $35. This holiday gift set can be purchased at chopchopmag.org/giftset. Budding chefs will also love CHOPCHOP: The Kids' Guide to Cooking Real Food with Your Family (Simon & Schuster; $19.99). ChopChop's cookbook is filled with over 100 recipes. The cookbook can be purchased at chopchopmag.org/cookbook and major booksellers nationwide.
About ChopChop
Endorsed by the American Academy of Pediatrics, ChopChop, The Fun Cooking Magazine for Families, is a nonprofit quarterly food magazine. Published by ChopChopKids, Inc, a 501(c)(3), ChopChop's mission is to inspire and teach children and families to cook real food together. ChopChop was named the 2013 Publication of the Year by the James Beard Foundation, and is the only non-profit publication to win the award. ChopChop is also the recipient of a coveted gold award from the Parents' Choice Foundation, the nation's oldest nonprofit guide to quality children's media and toys— the only cooking magazine ever to win this designation. To learn more about ChopChop's mission, and to support the organization by subscribing to ChopChop Magazine or by donating to its cause, please visit http://www.chopchopmag.org. Follow ChopChop on Twitter at @ChopChopMag, on Facebook at facebook.com/ChopChopMagazine or on Pinterest at pinterest/ChopChopMag.