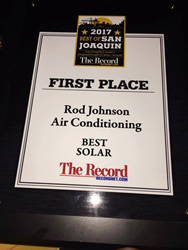 "Thank you to all of our loyal and wonderful customers for voting us #1 for Best of San Joaquin in Solar for 2017!" – Rod Johnson
STOCKTON, Calif. (PRWEB) November 16, 2017
Rod Johnson Air Conditioning, a company that's been serving San Joaquin County for over 20 years, was awarded first place for Best of San Joaquin in Solar for 2017. Rod Johnson posted some words of appreciation on their Facebook page after receiving the award, giving thanks to their loyal customers and voicing their commitment to continue "to provide San Joaquin county with the best possible service like we always have. We thank you for your support."
Rod Johnson Air Conditioning started as a heating and air conditioning provider in 1994, taking on odd jobs here and there. Now, they offer full HVAC service alongside their award-winning solar panel installation services. The company's dedication to customer service and high-quality workmanship is what helps them stand out among the other contractors in San Joaquin – and they have a customer fan base to prove it.
One customer commended Rod Johnson for their "outstanding, honest, professional customer service" – a review that Rod Johnson hears echoed time and time again. Looking at their history of positive customer reviews, it's no surprise that they won best solar company in San Joaquin this year.
So what's in store for next year? Rod Johnson aims to continue making their customers happy and providing the same stellar services that their reputation is built on.