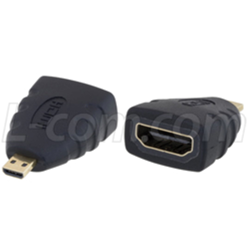 "Our new line of HDMI adapters provide versatile, quality interconnect solutions for your HDMI applications with most models supporting 1080p, and some also supporting 4k technology," said Brian Gates, Product Manager
NORTH ANDOVER, Mass. (PRWEB) November 28, 2017
L-com Global Connectivity, a preferred manufacturer of wired and wireless connectivity products, announced today that it has unveiled a new line of versatile HDMI adapters for use with home theater, OEM HDMI designs, professional A/V systems and digital signage applications.
L-com's 12 new HDMI adapters are offered in straight, in-line and right-angle models. Options include Type-A, Type-C, Type-D HDMI interfaces as well as HDMI to VGA adapters with audio support.
These adapters can be used with any HDMI-compliant cable assembly or HDMI ports on devices including HD TVs, HDMI hubs, HDMI enabled A/V equipment and more. L-com's HDMI adapters can be used to connect HDMI cables or ports in confined space applications, with some models able to replace cables entirely. They feature gold-plated contacts to ensure high-quality signal transmission and most models are RoHS-compliant.
"Our new line of HDMI adapters provide versatile, quality interconnect solutions for your HDMI applications with most models supporting 1080p, and some also supporting 4k technology," said Brian Gates, Product Manager.
L-com's new HDMI adapters are in stock and available for immediate shipment.
For more information about this release, please contact:
Peter McNeil
L-com Global Connectivity
17792 Fitch
Irvine, CA
978-682-6936 x1174
###
About L-com Global Connectivity:
L-com Global Connectivity, a leading manufacturer of wired and wireless connectivity products, offers a wide range of solutions and unrivaled customer service for the electronics and data communications industries. The company's product portfolio includes cable assemblies, connectors, adapters, antennas, enclosures, surge protectors and more. L-com is headquartered in North Andover, Mass., is ISO 9001: 2008 certified and many of its products are UL® recognized. L-com is an Infinite Electronics company.