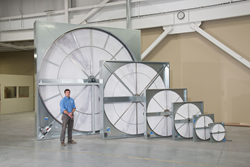 ROCKLAND, Mass. (PRWEB) November 15, 2017
Airxchange, Inc., a leading manufacturer of rotary energy recovery ventilation (ERV) components, earned a gold award for its innovative replacement wheel design in the 2017 Dealer Design Awards by ACHR News.
ERV is a proven and effective technology for minimizing indoor humidity concerns, energy costs and peak design loads. The technology has been utilized commercially for more than 40 years and has gained increased acceptance during the past 15 years with the formation of an industry performance certification program and the inclusion of ERV technology in national energy standards.
To facilitate the restoration of aging energy recovery wheels, Airxchange developed its award-winning design to overcome historical obstacles preventing easy restoration or replacement.
"When energy recovery wheels become damaged or too dirty to allow air to pass, the energy savings that were assumed in the HVAC system design are lost," said Christopher Glover, director of Aftermarket Sales at Airxchange. "Our replacement wheels are designed to easily replace aging energy recovery wheels from any manufacturer, recapturing savings and eliminating the need to replace the entire HVAC or ERV system."
In sizes ranging from 25-to-156 inches in diameter, Airxchange wheels are packaged in sub-assemblies that are light and small enough to fit through standard doors, hatches and stairwells, all without the need for expensive material handling equipment. A video demonstrating the portable wheel design can be seen here: http://www.airxchange.com/dealerdesignaward.htm.
ACHR News awards gold, silver and bronze awards in 13 categories ranging from ventilation products to commercial controls, and highlights the best HVAC equipment available. Judging is based on ease of installation and use, maintenance, application/repair, reliability and competitive difference.
For more information about Airxchange and the Dealer Design Awards, visit http://www.airxchange.com/DealerDesignAward.
About Airxchange
An industry leader since 1980 with more than 250,000 installations, Airxchange advances ERV technology to bridge the gap between healthy indoor environments and energy consumption. Airxchange's patented energy recovery wheel technology reduces energy requirements for conditioning outdoor air by up to 80 percent and is available from most HVAC manufacturers in a variety of configurations. Airxchange provides facility managers with the ability to replace or refurbish older energy recovery components through its Aftermarket Energy Recovery Solutions. Airxchange technology can be found in wide use in commercial, residential, institutional and industrial applications.