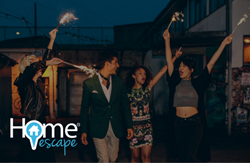 MIAMI (PRWEB) November 15, 2017
With thousands of vacation home rental listings worldwide, HomeEscape knows which locales are the most popular amongst its users – so, without further ado, here are HomeEscape's most sought after travel destinations to ring in the New Year.
1. Las Vegas, Nevada
Las Vegas is considered the entertainment capital of the world. With 24/7 casinos, shows, and endless shopping, Vegas has never-ending fun for the fun-oriented traveler. Whether travelers are seeking a luxury penthouse overlooking the Las Vegas strip where they can plan their Blackjack strategy, or a quiet suburban refuge suitable for their entire family, HomeEscape has an inviting array of Las Vegas vacation rentals on and off the strip.
2. Maui, Hawaii
With evergreen hills and sun kissed beaches, Maui is a top vacation destination for travelers the world over. Seeking solace and sunshine, Maui can be either adventure-filled and exciting, or just lay-on-the-hammock calm. Either way you do it, HomeEscape has dozens of Maui vacation rentals to keep travelers comfortable. If they're traveling with kids, check out Iao Valley State Park – it's mystical, lush, inviting, and not to mention, breathtakingly beautiful. If their daughter dreams of mermaids, look no further than Hawaii Mermaid Adventures – with expert instructors who are also lifeguard certified, experiences here will be safe and truly immersive in Hawaii's beautiful waters.
3. Los Angeles, California
The City of Angels is a vast urban landscape filled with every activity imaginable. A perfect place to visit for families looking for adventure, Los Angeles has something for everyone. Known for luxury, celebrities, and shopping, LA has become a permanent monument to the creative spirit. For day activities, check out Runyon Canyon Park for an unforgettable hike (just don't forget to drink enough water – the LA sun is intense!). After the hike, swing by the Hollywood Bowl and visit one of the most historic music venues in the world. Then, check out the famous Chinese Theatre where both big movies premiere and where celebrities come to walk the red carpet. We highly recommend watching a movie there – the sound system is great! When it's time to wind down the day, HomeEscape has an unbeatable selection of Los Angeles vacation home rentals.
4. Puerto Vallarta, Mexico
Nothing says "fun in the sun" like a vacation in Puerto Vallarta. Beautiful sandy beaches stretch for miles in this famously laid back party town. Travelers can break up their relaxation routine by enjoying one of the area's zip lines – they'll see both monkeys and jungle in record time. If they want to work on their abs before a night out, they can check out the surf on the beaches of Sayulita (and there are plenty of surf pros to help them out). And finally, when visitors are ready to hit the clubs, Puerto Vallarta never disappoints. This Mini-Miami can deliver all of the fun, at a fraction of the cost. Check our HomeEscape's beautiful casitas, beach bungalows, and spacious vacation rentals in Puerto Vallarta to have an unforgettable getaway.
About HomeEscape: HomeEscape connects homeowners and property managers with travelers who seek the space, value and amenities of vacation rental homes as an alternative to hotels. With detailed property descriptions, photos and list of amenities and nearby attractions, HomeEscape makes it easy to find and compare properties all over the world.