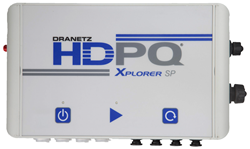 "Having the ability to power the Dranetz HDPQ SP instruments from the circuit being measured is a great convenience to our users, and it also enhances their safety
EDISON, N.J. (PRWEB) November 15, 2017
Power from the phase has now been added to the Dranetz Technologies IP65 rated Dranetz HDPQ SP power monitoring instruments. The Dranetz HDPQ Visa SP, Guide SP, Xplorer SP, and Xplorer 400 SP instruments are intended for use in harsh, outdoor and remote environments, or for applications where a LCD display is undesirable.
"Having the ability to power the Dranetz HDPQ SP instruments from the circuit being measured is a great convenience to our users, and it also enhances their safety," said Ross Ignall, Dranetz Director of Product Management. "With the new, built in, 600V AC/DC power supply, our users no longer have to locate a separate 120/230V power source for the instrument; they now have the choice to either power the instrument from the circuit being measured, or from a separate power source, such as a standard wall plug."
Dranetz HDPQ users can now choose between a traditional portable instrument with a local 7" color touch LCD display or a SP version that can be powered from the phase, and is housed in an IP65 enclosure without a local LCD display. The HDPQ portable (with 7" display) and SP (IP65 enclosure without display) versions of each model have exactly the same measurement and strong remote communications capabilities.
The Dranetz HDPQ Family of Power Quality, Demand & Energy instruments not only offer the industry's best measurement capabilities, but also have the most powerful communications capabilities in the industry. The powerful communications available in the Dranetz HDPQ line enhances the end users productivity and safety by allowing users to control the instrument and download data remotely. Users no longer have to expose themselves to hazardous environments and can now manage their power surveys remotely from the safety and comfort of their offices or other more desirable locations.
About Dranetz
For more than 50 years, Dranetz has been a leading provider of intelligent monitoring solutions for electrical demand and energy and power quality. With over 100,000 clients worldwide, Dranetz scalable solutions range from portable power quality analysis equipment to permanent energy management devices with data storage and web-based solutions. Dranetz provides a full suite of services, including personalized pre- and post-sales support, educational power quality seminars, consulting, customization and on-site assistance.
Dranetz corporate headquarters, located in Edison, New Jersey USA, includes sales, product support and manufacturing, with distributors and sales representatives located globally. Dranetz proudly manufactures their products in the USA, and is also the supplier of Gossen Metrawatt's (GMC-I) test and measurement products in the Americas