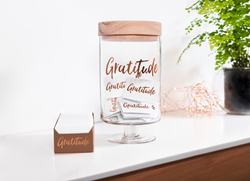 (PRWEB) November 14, 2017
Featured among the 102 gifts of Oprah's Favorite Things 2017 List, the Gratitude Jar from Gratitude Glass Jars is a movement in positivity – and quickly becoming the #1 holiday gift for families across the nation. A complete range of jars with a higher purpose to capture life's events, love and advice, and words of wisdom, Gratitude Glass Jars are handcrafted designs with wooden lids, packaged in a chic box.
Selling out of their first week within half a day and with new stock arriving over the crucial holiday shopping season, the Gratitude Jar from Gratitude Glass Jars climbed the ranks to the highest-selling product on the website on the first day of Oprah's list. A fan herself, Oprah explained why she was grateful for this inspirational design:
"I'm grateful somebody came up with the Gratitude Glass Jar. It includes 365 cards so your family can take turns jotting down notes about things they truly appreciate. At the end of the year, everyone can gather for a celebration of whatever is on those cards," as Oprah says in the December issue of O, The Oprah Magazine – on newsstands today.
During an intimate launch party, Oprah and the magazine's editors invited Claire on stage to speak more on the power of gratitude.
Named "the gift that keeps on giving" by Oprah, the Gratitude Jar from Gratitude Glass Jars has driven a movement – inspiring others to love themselves and the people around them. Suffering a series of traumatic events, Summers carried the pain of a miscarriage, an abusive engagement, growing up in an abusive home, and the tragic death of her father. With her past and futures colliding all at once, Summers chose to fight back with the power of gratitude, creating positivity through the pain.
More than creating a business, the soul of Gratitude Glass Jars is about believing in the human spirit. Begin each day with an open heart by recording all that you are grateful for with these bronze foil Gratitude Cards for your daily notes.
Gratitude Glass Jars range in price from $39.95-$45.00, with Wedding Wishes ranging from $45-$49.95. Shop the different designs online at https://www.gratitudeglassjars.com or in boutiques across America.
Turning a series of deeply traumatic events into life changing success, founder Claire Summers incorporates bringing awareness into one's life through Gratitude Glass Jars. It was through the daily practice of expressing gratitude that she was able to not only become aware of her trauma, but reveal these feelings to others which saw many stories of similar experiences.