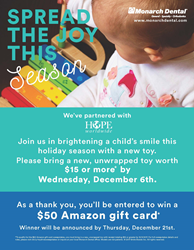 SAN ANTONIO, Texas (PRWEB) November 15, 2017
The affiliated offices of Monarch Dental of San Antonio are joining with HOPE worldwide, an international charity that delivers sustainable, high-impact, community-based services to the poor and needy, to collect toys for children across the San Antonio area now through December 6.
"All of us at Monarch Dental feel strong ties to the communities we support," said Dr. Robert Crim, Monarch Dental chief dental officer. "We believe that every child should experience the joy of unwrapping a new toy this holiday season, which is why we are proud to be working with HOPE worldwide to solicit donations."
The toy drive will help assure that each child in attendance at HOPE worldwide's annual military children's Christmas party under the age of 12 will receive a gift, as well as enjoy a meal with families and friends, play games, participate in activities such as face painting, and be visited by Santa, Mrs. Claus and the Grinch.
"Locally, we are a relatively small organization of volunteers with big dreams; our biggest challenge is raising the funds needed to accomplish our dreams for serving San Antonio," said Becky Quiroz, chapter director HOPE worldwide-San Antonio. "Monarch Dental's established presence in the community will accomplish so much more than we could do on our own; we are truly grateful that they're supporting our endeavor this year."
By turning all 19 Monarch Dental San Antonio locations into toy drop-off points, these local dental offices are making it easier than ever for area residents to make a difference. In an effort to encourage more families to participate this year, Monarch Dental will be entering each donor for the chance to win a $50 Amazon gift card.*
*To qualify for the $50 Amazon gift card sweepstakes, you must bring in a new, unwrapped toy with receipt totaling $15 or greater by 12/6/2017. For full sweepstakes details and rules, please visit: bit.ly/toydrivesweepstakes.
About Monarch Dental
Monarch Dental provides general dentistry, children's dentistry and specialty care services such as orthodontics, oral surgery, periodontics and endodontics at 89 locations throughout Texas, Arkansas and Utah. Monarch Dental affiliated practices make it easy and affordable for individuals and families to get the dental care they need with convenient locations, extended hours and same-day appointments. The Monarch Dental mission is to create healthier smiles by making dental visits easy and enjoyable. Learn more at http://www.monarchdental.com.
About HOPE worldwide
Since its founding in 1991, the mission of HOPE worldwide has been to bring hope and change to the lives of the poor and needy. Each year, HOPE worldwide helps more than 1.5 million of the worlds most poor, sick and suffering in over 60 countries. The San Antonio chapter of HOPE worldwide is committed to bringing this hope and change to the lives of the poor and needy in our own community. We conduct a Saturday Academy for the youth across the city at the Frank Garret Community Center each summer, touching the lives of over 50 at risk youth. During the fall of each year, we have organized a basketball league for these same at risk youth. The basketball league has grown to over 32 teams. The military children's Christmas party is held each year to honor the families of those serving our country.
Contacts:
Jami Vincent
Marketing Director
Smile Brands Inc
Jami.Vincent(at)smilebrands(dot)com
O: 714.428.1248
C: 949.300.8929