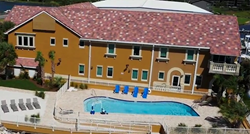 ' I was a wreck; however, they knew exactly what to do. I was SO comfortable. I never even got sick, surprisingly. It still blows my mind what they did."
GULF BREEZE, Fla. (PRWEB) December 26, 2017
When Kristi was in high school, she was introduced to her first mood-altering substance: alcohol. As she entered this novel world, she started to gain interest in and experiment with other substances like cigarettes, marijuana and acid. To Kristi, this was a new way to feel good and cover up the shame that she felt not living up to the perceived expectations of others. While her family endured difficult times, Kristi tried smiling and keeping the uncomfortable feelings bottled up inside.
Things took a hard turn for the worse when she started using crystal meth.
Kristi's life as she knew it was gone and her daily goal was a constant effort to get and use meth. She was now 18 and living on her own, but, with nothing left, Kristi decided to go to her mom's on the west coast. Despite the change in scenery, Kristi continued to struggle with her addiction until her cousin gave her some essential advice: try Gulf Breeze Recovery. Kristi was stunned by her cousin's transformation; he had been in constant misery, drinking heavily for years, and now he was living joyfully sober. She decided to make the call.
When Kristi arrived at the treatment center in Pensacola, Florida she was apprehensive about their ability to keep her comfortable during detoxification. She describes her entrance at Gulf Breeze Recovery, "So, I got here and I finally made it into detox after my suitcase 'blew up' right in front of the place, clothes everywhere. I got into detox and I was thinking, 'Man, I've been so sick before, I don't know how in the world they are going to keep me comfortable.' I was a wreck; however, they knew exactly what to do. I was SO comfortable. I never even got sick, surprisingly. It still blows my mind what they did."
The rest of her story is an uplifting description of the myriad elements of recovery that Gulf Breeze Recovery's THRIVE® program offers. A nurturing and kind atmosphere of nurses, enjoyable outings and lasting friendships. "I never thought I could feel this good not being on drugs or using drugs. I'm higher on life now than I ever was using a substance. I learned here that it comes from the inside and I have it and nobody can take it away…It's magical here, it really is."
Kristi's story is one of many testimonials that can be found on the Gulf Breeze Recovery website. Her story may seem like many others- after a childhood defined by trauma, she chose the use of substances to mask the feelings she encountered. However, her story is still her own, and Gulf Breeze Recovery used holistic treatment to fit her personal needs.
With Gulf Breeze Recovery's THRIVE® program, it's no wonder that there are so many success stories like Kristi's. From detoxification to aftercare, the holistic approach to gaining sobriety is a program that truly works.
About Gulf Breeze Recovery: Gulf Breeze Recovery is changing the future of addiction treatment. Gulf Breeze Recovery's THRIVE® program is designed for those who are looking for a drug and alcohol treatment program that may produce a different and positive result. This non-12 step program allows you to drive beyond your addictions and promotes a new outlook on life. Gulf Breeze Recovery's THRIVE® program is designed for those who struggle with chronic relapse. Gulf Breeze Recovery is now accepting select insurance policies as a full or partial payment for all program costs. The exciting news is that people can now attend one of the most highly regarded drug treatment centers in the country at little to no cost to them. For more information about our program or to speak with an Admissions Counselor, please call 855-973-3551.