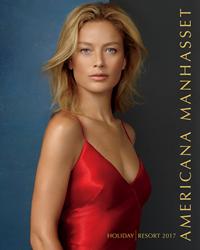 We wanted to continue the message of individuality...
MANHASSET, N.Y. (PRWEB) November 15, 2017
Holiday and resort ready-to-wear, accessories and jewelry from the most luxurious brands in the world are captured in a high-style picture book starring four major models.
The campaign was photographed, produced and styled by Laspata/DeCaro at a studio in New York City.
In a departure from most Americana books, which often feature one female and one male model for a narrative effect, this book features 4 models of different backgrounds. The iconic Carolyn Murphy appears on the cover and throughout the book, with Joan Smalls, Charlee Fraser and Ben Allen also featured throughout.
"The concept for the campaign follows in the footsteps of Americana's 2016 Holiday campaign, which featured an assemblage of 19 different models of varying ages, ethnicities and backgrounds," said Charles DeCaro. "We wanted to continue the message of individuality that rang loud and clear and received such accolades last year by choosing another diverse and original grouping of talent."
Americana's Holiday/Resort Book is direct-mailed to 130,000 targeted households. The images are being featured in national and regional print ads in publications such as The New York Times, T-Styles magazine and The World Journal newspaper, as well as in various digital media such as nyt.com. The campaign is also being shown prominently throughout the season on Americana's website, americanamanhasset.com and featured on Americana social media outlets.
Americana Manhasset is a premier collection of 60 fine shops, including Hermès, Chanel, Louis Vuitton, Gucci, Cartier, Ermenegildo Zegna, Van Cleef & Arpels, Bottega Veneta, Hirshleifers, Ralph Lauren, London Jewelers and more, all within a unique outdoor environment designed by renowned architect Peter Marino and landscape designer Oehme van Sweden. Americana Manhasset offers a complimentary Personal Shopping Service, a remarkable luxury fashion and gift resource. Located on Long Island's beautiful North Shore, Americana Manhasset is 20 miles from Manhattan and 50 miles from the Hamptons.
Additional and/or high-resolution images from the 2017 Holiday/Resort campaign are available upon request.
Visit our website, follow us on Instagram and Twitter, and like us on Facebook!