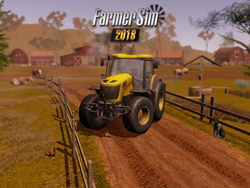 CUPERTINO, Calif. (PRWEB) November 20, 2017
Back in 2015, a brilliant new 3D simulation app called Farmer Sim invited people around the world to put on a pair of overalls and grab a pitchfork, and experience the challenges, risks, opportunities and rewards of being a real farmer. Fast forward a few years, and the app's creator Ovilex Soft has taken the experience and fun to a whole new level with the release of Farmer Sim 2018 for iOS and Android.
First of all: if the name Ovilex Soft rings familiar, it's because this is the same talented crew behind some of the world's most successful and popular ultra-realistic 3D simulation apps, including Driving School 2017, Bus Simulator 2017, Construction Sim, the astonishing first-person shooter release Counter Assault Force, and dozens of other top-rated titles. The company's apps have been downloaded more than 100 million times, and their Facebook page has received over 850,000 "likes" from legions of dedicated fans around the world.
Given this success, it's not surprising that expectations for eagerly-anticipated Farmer Sim 2018 were extremely high — and as usual, Ovilex Soft doesn't disappoint. Within minutes of downloading the app, users head out of the city and into the countryside, where they're in charge of harvesting crops (wheat, corn, etc.), managing livestock (turkeys, cows, etc.), and transporting various goods (wood, hay, etc.).
Plus, since farming in the 21st century is a high-tech endeavor, there are plenty of vehicles to operate such as seeders, harvesters, sprayers, tractors, plows and trailers — all of which feature realistic touch-control and tilt steering, functional dashboard controls (odometer, fuel gauge, horn, headlights, windshield wipers, etc.). Clearly, Ovilex Soft has done their research on how each vehicle functions and performs in the real world, and even the most experienced career farmers will be impressed by the level of realism and detail.
Other Farmer Sim 2018 special features that have already earned rave 5-star reviews and generated more than 1 million downloads in less than a week include:

Multiple playing options, including a fun and challenging career mode.
Astonishing next-generation 3D graphics and ultra-realistic sound effects.
Day and night cycles, and a realistic weather system.
Uses can also challenge their friends by sharing statistics and achievements online, and request new vehicles and features on Ovilex Soft's social pages.
"Farmer Sim 2018 is one of the most enjoyably, fun and creative apps on our roster, because farming is something that so many people only know about in a very limited way — usually based on what they see on TV and movies," commented Marusac Alexandru of Ovilex Soft. "Farmer Sim 2018 immerses people into a new world, full of tasks, challenges, schedules, deadlines, risks and rewards. And who knows? Maybe after playing, some people will be inspired to do some more research, and eventually head out to the open countryside to run a real farm!"
Farmer Sim 2018 is available now for iOS devices from the App Store at https://itunes.apple.com/app/farmer-sim-2018/id1273216352
and for Android Devices from Google Play at https://play.google.com/store/apps/details?id=com.ovilex.farmersim2018.
Addition app information, including a video trailer and screenshots, is available at: http://www.ovilex.com/app/farmer-sim-2018.
For all other information or media inquiries, contact Mark Johnson on behalf of Ovilex Soft at +1 408 757 0156 or press (at)appshout(dot)com.
View the full Press Release in the appshout! Newsroom at: http://appshout.d.pr/tXFGOx
About Ovilex Soft
Ovilex Soft is a new games company that focuses on making the best simulators on Google Play and the App Store. With a variety of planned future projects and continuous attention to quality control, the company will become an important developer within the simulator/racing game market.
Olivex Soft also helps ensure the quality of their products by keeping contact directly with their large audience of games players via the company's site forum at: http://www.ovilex.com/forum/