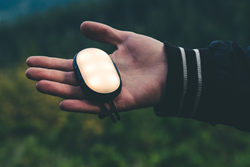 Cairn Mini 150-Lumen Rechargeable Lantern Brightens Any Adventure
Lehi, Utah (PRWEB) November 15, 2017
Lander®, the creator of expedition-inspired accessories, has launched Cairn™ Mini—an ultra-compact, bright, rechargeable, modern camping lantern that's purpose-built for outdoor exploring.
Cairn Mini displays a unique flattened-oval design that easily slides into jacket or pants pockets. Featuring a 1,000 mAh battery and 150 lumens, the lantern produces up to 100 hours* of brilliant light on a single charge.
"The Cairn Mini meaningfully expands our lighting category, taking the basic lantern and making it modern," said Kasey Feller, Lander's brand manager. "Like its big brother Cairn, the Mini is weatherproof and even more compact—all without sacrificing quality and performance. Now it's easier than ever to bring light to your adventures."
Available in two color variations, Blue/Gray and Purple/Pink, the Cairn Mini's vibrant, speckled-color schemes deliver an individual sense of style with utility. Each Cairn Mini features:
Water and dustproof IP65 rating
100+ hours* of light time with variable dimming and strobe modes
Illumifind™ reflective tether for easy nighttime locating
Multi-axis elastic anchor system that is easy to hang or attach lantern
Lander Cairn Mini ($29.99) is an REI exclusive and can be purchased at REI retail locations or REI.com. To learn more about Lander Cairn Mini, click here.
*Duration dependent on light-brightness usage.
About Lander®
Lander creates expedition-inspired accessories for your journey, wherever it may take you. Inspired by its Rocky Mountain home, Lander accessories are made with innovative technology used in equipment carried by the world's best explorers. Lander offers an extensive line of cables, phone cases, backpacks and chargers—products designed for the explorer in all of us. For more information, visit Lander.
About Parent Company BGZ brands™
BGZ brands' mission is "to enhance our customers' lifestyles through branded products and services of elevated value and quality." Formerly known as BodyGuardz®, BGZ brands has become the powerhouse parent company of three distinct consumer electronic accessory brands—BodyGuardz, a leading device protection company; Lander, expedition-inspired accessories for the explorer in all of us; and MOXYO®, modern accessories for you. For more information, visit BGZ brands.
###