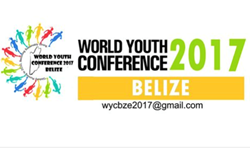 By engaging young people today, we're helping to create tomorrow's environmental stewards
SAN IGNACIO, Belize (PRWEB) November 21, 2017
What does an international youth conference have to do with ecotourism in Belize? Quite a bit, according to The Lodge at Chaa Creek's general manager, who hailed the 2017 World Youth Conference recently concluded in Belize City as "one more example of our young nation supporting and investing in young people."
With some 250 delegates from over 40 countries in attendance, the 2017 World Youth Conference, held from November 6 to 9, was one of the biggest and most important international events held in Belize this year, Bryony Fleming Bradley said.
It also highlights Chaa Creek's philosophy that one of the primary functions of eco-tourism is to provide a better future for today's young people, she added.
"When my parents opened Chaa Creek at our family farm back in 1981, they were very committed to the concepts of sustainable tourism and responsible travel, and the belief that tourism should provide more than just economic prosperity. They joined other Belizeans in promoting ecotourism's potential benefits for the environment and local communities.
"Now, years later, tourism is not only Belize's most important industry and driving our economy, it's also funding education, opening up careers and providing opportunities for young Belizeans.
"And, as this conference shows, it's giving young people a voice," she said.
Ms Bradley said Belize's support for youth and sustainable development made it the logical venue for the 2017 World Youth Conference.
Under the umbrella theme of "Globally Running to 2030, Becoming Sustainably Strong", the conference's panels, round table discussions, professional development workshops and presentations focussed on local and global issues affecting sustainable development, such as climate change, education, gender equality, corruption, and related topics.
"Obviously, for development to be sustainable, it must involve young people, and that's what's behind many of the projects we fund under our Chaa Creek Cares initiative, which sees ten percent of all room revenue going directly into environmental and community programs and projects," Ms Bradley said.
As one example, Ms Bradley pointed to Chaa Creek's annual "Eco-Kids environmental education summer camp". Each year the eco-resort hosts 24 young Belizeans to participate in a weeklong, immersive "environmental learning adventure" that combines education with fun activities and team building exercises.
The popular Belizean jungle lodge also brings visitors and local school children together in its "Pack-a-Pound" project, which encourages guests to pack a pound or more of school supplies in their luggage or to post when they return home. The supplies are then distributed to needy students across Belize.
"We have a range of other programs that bring environmental awareness into classrooms and villages. By engaging young people today, we're helping to create tomorrow's environmental stewards while expanding their career opportunities. This helps make sure that Belize's tourism industry remains healthy and vibrant well into the future," Ms Bradley explained.
At the end of the World Youth Conference, organiser Dr KK Singh, chair of the International Youth Committee, called Belize a role model country with "The Belize youth leading the world in various fields and in the successful implementation of United Nations sustainable development goals."
"Your hard work will make your nation grow and shine on the top of the world one day," he said.
Ms Bradley said such observations prove that Belize and Chaa Creek's support for young people is already showing a healthy return on investment.
"Chaa Creek, and my parents Mick and Lucy Fleming, received some pretty significant honours this year, including a National Geographic World Legacy Award and Lifetime Achievement Award from the Belize Tourism Board. But I'm sure I speak for them, and all of us here, that hearing Belize spoken of as a global role model for supporting youth is one of the best accolades we've ever received.
"It's a reward that keeps growing year after year," Ms Bradley said.
The Lodge at Chaa Creek is a multi-award winning eco resort set within a 400-acre private nature reserve along the banks of the Macal River in Belize. It was recognised by National Geographic with first place honours at the 2017 World Legacy Awards held in Berlin.
ENDS