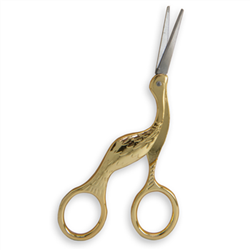 SAN FRANCISCO (PRWEB) November 16, 2017
Lefty's The Left Hand Store has added 3 new styles to it's Left-Handed Scissors Collection, just in time for the holidays. Left-handed scissors are the single most useful left-handed tool. Left-handed scissors are especially important during the holidays. The new shears are designed for cooking and for sewing/crafting. They are perfect for making holiday treats and gifts, and they make especially thoughtful gifts for left-handers.
Lefties can learn to use right-handed pens, can openers, corkscrews, measuring cups, notebooks, etc., and even left-handed scissors. But the precision and control are never very good. Right-handed scissors also strain a lefty's muscles and joints, so they can't work as long or as well as with left-handed scissors.
Often used for professional tasks, scissors are especially critical tools. Workshops with both left-handed and right-handed workers and artisans understand this, and the most highly-skilled shops provide left-handed scissors and shears.
Lefty's has just added a kitchen scissor, a professional tailor's shear, and a very precise embroidery scissor. The kitchen scissor, a necessity for a professional chef, is useful for every lefty cook. The serrated blades come apart easily for cleaning, and include a herb stripper. This large-handled comfortable scissor also doubles as a florist's shear, and general heavy duty utility shear.
The left-handed tailor's scissor is a heavy duty, professional quality shear with a 9-1/2" blade, designed for straight and precise cutting through even heavy materials. The shear comes in an elegant, custom box, a permanent case for this shear that will last for decades.
The stork embroidery scissor is back by popular demand. Designed as a stork, this scissor evolved from medieval mid-wives scissors, which required the same precision and sharpness as embroidery scissors. Lefty's made this scissor several years ago, and it was so popular that it sold out. The new stork scissor, by a different manufacturer, has an improved design -both larger and stronger.
Visit Lefty's retail stores at Pier 39 in San Francisco, and at The Marketplace in Downtown Disney, Walt Disney World Resort in Orlando.