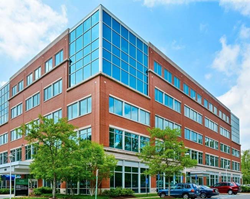 Our continued growth as a practice is in response to the demand for affordable yet highly specialized and personalized fertility care.
FAIRFAX, Va. (PRWEB) November 15, 2017
Shady Grove Fertility, Washington, D.C. metro's most expansive fertility center and the largest in the state of Virginia, announced today its Annandale, VA, office has moved to a new, expanded full-service location in Fairfax, VA. Board certified reproductive endocrinologists, David Saffan, M.D., Eric Levens, M.D., and Rachana Garde, M.D. are seeing new patients in the brand new facility.
The new, expansive state-of-the-art center will provide even more convenient access to best-in-class fertility care in the Northern Virginia region, and bring a broad array of services to individuals and couples who are seeking help to overcome infertility. As the largest fertility center in the state with locations in Arlington, Fair Oaks, Leesburg, Woodbridge, Haymarket, Dulles-Aldie, and now Fairfax, SGF has been serving Northern Virginia for the past 25 years with 9 reproductive endocrinologists and 1 reproductive urologist, many of whom were recently named a Washingtonian Top Doctor in Infertility.
"Our continued growth as a practice is in response to the demand for affordable yet highly specialized and personalized fertility care," says Eric Levens, M.D.
At Shady Grove Fertility, in accordance with guidelines set forth by the American Society for Reproductive Medicine, it's recommended to seek a complete fertility evaluation after 12 months of having unprotected intercourse with no success when the female partner is under the age of 35, after 6 months when she is older than 35, and after 3 months if 40 and over. Beyond age, it is important to be aware of several medical conditions that indicate seeing a fertility specialist sooner.
"At Shady Grove Fertility, we are proud of our successful history helping couples in Northern Virginia achieve their dream of parenthood. We are sensitive to the needs of this community and develop treatment plans that are specific to each person or couple and their desire for family building," shared Dr. Garde.
Virginia patients will also soon benefit from the opening of Shady Grove Fertility's newest IVF laboratory and procedure center in April 2018, located in the new Fairfax, VA office. The new space is over 6,500 square feet and is home to physician offices for patient consultations as well as dedicated andrology laboratories for procedures such as intrauterine insemination (IUI), sperm preparation, and patient monitoring. The state-of-the-art embryology laboratory is located next to a spacious ambulatory surgery center with 5 recovery bays, 3 embryo transfer rooms, and 2 operating rooms.
2017 marked a significant practice milestone, with 50,000 babies born since the center first opened its doors in 1991. With now 41 physicians and 28 locations throughout VA, MD, PA, D.C., and GA, the practice's continued growth is attributed to the remarkable advancements made in laboratory and treatment protocols as well as an ability to provide personalized care, evidenced by 96 percent of SGF patients saying they would recommend the practice to a family member or friend.
"Continuous research, innovation, and a commitment to stay at the cutting edge of reproductive science, all hallmarks of our practice, improves outcomes for patients and helps more couples conceive," adds Dr. Levens.
Located at 8501 Arlington Boulevard, Fairfax, VA 22031, patients may now schedule an appointment with Dr. Saffan, Dr. Levens, or Dr. Garde by calling the Shady Grove Fertility New Patient Center at 888-761-1967.
About Shady Grove Fertility (SGF)
SGF is a leading fertility and IVF center of excellence with 50,000 babies born and counting. With 41 physicians and 28 locations throughout MD, PA, VA, GA, and D.C., we offer patients individualized care, innovative financial options, and pregnancy rates among the highest of all national centers. More physicians refer their patients to SGF than any other center. Call 1-888-761-1967 or visit ShadyGroveFertility.com.