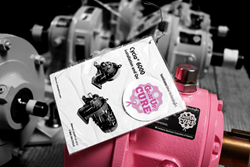 CHESAPEAKE, Va. (PRWEB) November 20, 2017
Susan G. Komen released that their organization wants to reduce the current number of breast cancer deaths by 50% in the U.S. by 2026. Sumitomo Machinery Corporation of America (SMA) wanted to be a part of this goal, so they created the campaign—Gear Up for the Cure—to support these efforts.
Gear Up for the Cure is a multipart campaign that combines both participation and donation. With a campaign of this magnitude, they wanted it to be internal and external, so both employees and customers could participate.
In the inaugural year, SMA hosted a donation-based ice cream social, which featured double scoop ice cream cones and an array of flavors for employees to choose from. With this event, they were able to raise $1,255 toward the cause.
For employees, they also provided a 3D Mobile Mammography Unit. Early detection is key to survival of breast cancer, so they wanted easy access to screenings. The unit is a fully equipped 40-foot van with 2D and 3D mammography.
For customers, the Gear Up for the Cure campaign became a 'paint it pink' option for distributors, original equipment manufacturers, and direct customers to order for their gearmotors and gearboxes. The unit was painted in a bright pink color and had a custom nameplate adhered that read, "A donation was made to support Susan G. Komen in support of breast cancer awareness." A portion of the proceeds were donated to the Susan G. Komen organization for a total of $5,000.
Many individuals know someone affected by breast cancer, and awareness and funding are imperative in saving lives. The Gear Up for the Cure campaign encourages employees and customers to act, donate, and get involved to support Susan G. Komen and the fight against breast cancer. Any questions regarding the campaign, or ways to be involved, please reach out to Phil Zarate at phil.zarate(at)shi-g.com.