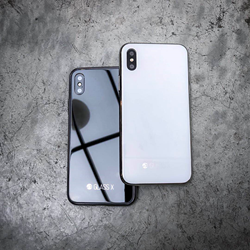 GLASS X is the only case in the market which not only looks like the iPhone X, IT FEELS LIKE AN iPhone X!
TRACY, Calif. (PRWEB) November 16, 2017
GLASS X is the only case in the market that not only looks like the iPhone X, users don't feel the difference wearing GLASS X due to the similarity of the glass back of the iPhone X.
Continuing with last year's successful launch of GLASS : World's first glass case to protect JET Black iPhones on Indiegogo, SwitchEasy is proud to launch GLASS X: YOUR IPHONE X UPGRADE KIT.
Here are some of GLASS X features:
Wireless Pass-thhrough Electro-Plated Chrome Rims - Color Matching soft and grippy TPU Chrome RIMS for the perfect iPhone X looks.
0.8mm 9H (Hardness) GLASS back - Unlike any plastic cases, GLASS X features ultra durable glass back which resists day to day scratches on the case. Made from the same basic material as the latest iPhones, GLASS X is the only case on the market where iPhone X or iPhone 8 users do not feel the difference of wearing a case or not.
Glass X is also available for iPhone 7 and 8 Plus, as well as smaller iPhone 7 and 8 (4.7 inch). 
For iPhone 8 users, this is the most natural case a user can get for their glassed back phone. 
For customers who own previous generation iPhone 7, GLASS X is the ultimate upgrade to experience the latest design of iPhone 8/X with glass back.
GLASS X is available in Space Gray and Silver for iPhone X, iPhone 7/8 Plus and iPhone 7/8 (4.7") at an early bird preorder price from $15 on Kickstarter™
https://www.kickstarter.com/projects/1126119464/glass-x-worlds-first-glass-iphone-x-upgrade-case
For media resources please download our press package at:
https://www.dropbox.com/sh/0energjm7zotx8d/AADcjoQDi5usctSqxklMtz-4a?dl=0dia
About SwitchEasy Limited™:
SwitchEasy Limited™, founded in 2005, is dedicated to creating innovative, functional accessories for the urban mobile lifestyle. SwitchEasy offers accessories for popular brands and products including iPod®, iPhone®, iPad®, Mac®, products. For more information, please visit http://www.SwitchEasy.com.
The SwitchEasy™ trademark is the exclusive property of SwitchEasy Limited™ and is registered with the U.S. Patent and Trademark Office, and may be registered or pending registration in other countries. All other SwitchEasy™ trademarks, service marks, and logos may be registered or pending registration in the U.S. or in other countries.
Media Contact:
Wolf Hsu
Wolf.hsu(at)switcheasy(dot)com