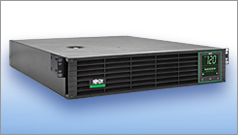 The combination of long life and quick recharging makes the SMART2200RM2UL a low-maintenance choice for safely protecting rack equipment.
CHICAGO (PRWEB) November 17, 2017
Tripp Lite, a world-leading manufacturer of power protection and connectivity solutions, has expanded its SmartPro® UPS line with a model containing an innovative lithium iron phosphate (LiFePO4) battery. The advanced technology of LiFePO4 batteries provides up to double the service life of a traditional lead-acid battery, and up to three times more charge/discharge cycles.
"Our first UPS with lithium-ion battery backup provides an exciting introduction to this technology," said Carolyn Brady, Tripp Lite UPS Product Manager. "The combination of long life and quick recharging makes the SMART2200RM2UL a low-maintenance choice for safely protecting rack equipment. An industry-leading five-year warranty that covers the battery offers additional peace of mind."
The SMART2200RM2UL delivers 2200VA/1920W of secure and uninterruptible battery backup power to protect against blackouts, brownouts, power surges and line noise that can damage electronics or destroy data. Its sine wave AC output makes it ideal for backup power for servers and network storage devices. The system provides up to 11.7 minutes of support at half load.
Learn More
Download Product Images
Key Benefits of Tripp Lite's SMART2200RM2UL UPS System with LiFePO4 battery:

Fast recharging: reaches full capacity in less than two hours
Saves money in energy and cooling costs, with 97% line‑mode efficiency
Protects equipment and data from damaging electrical spikes with 570 joules of surge protection, and from line‑noise interference with EMI/RFI filtering
Prevents shutdowns from brownouts as low as 83V and overvoltages as high as 145V without using battery power
Protects several pieces of equipment with eight NEMA 5-15R outlets, plus its 10 ft. power cord provides flexibility in placement
For more information about Tripp Lite's lithium iron phosphate UPS system, visit: https://www.tripplite.com/smartpro-120v-2.2kva-1.92kw-line-interactive-sine-wave-ups-lithium-iron-phosphate-lifepo4-batteries-2u-lcd-usb-db9~SMART2200RM2UL
About Tripp Lite
Outstanding product reliability and exceptional service have been Tripp Lite trademarks for 95 years. Tripp Lite´s innovations include the world's first UPS system designed specifically for personal computers and the world's most trusted premium surge protector—the Isobar®—with more than 19 million in use. Tripp Lite maintains the highest level of ready-to-ship inventory in the industry with more than 4,000 different products, including UPS systems, rack systems and cooling solutions, PDUs, PowerAlert® software for enterprise-level system management and control, surge protectors, KVM switches, cables and connectivity products, inverters, power strips and notebook accessories. Headquartered in Chicago, Illinois, Tripp Lite maintains a global presence with fully staffed offices worldwide. Additional information, including a list of Tripp Lite's sales offices and authorized reseller partners, can be found by visiting Tripp Lite's website: http://www.tripplite.com.