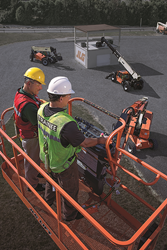 MCCONNELLSBURG, Pa. (PRWEB) November 22, 2017
SmartLoad Technology and AccessReady from JLG Industries, Inc., an Oshkosh Corporation company [NYSE:OSK] and a leading global manufacturer of aerial work platforms and telehandlers, earned gold awards in Lift and Access magazine's 2017 Leadership in Lifting Equipment and Aerial Platforms (LLEAP) Awards. The competition also honored JLG® 1644 and 1732 high capacity telehandlers with a silver award.
LLEAP Awards recognize innovative equipment, support products, and services introduced in the North American market between June 1, 2016, and May 31, 2017, and currently available for purchase in North America. The competition considered entries in five categories, including aerial lifts, material handlers, cranes, OEM-developed features/essential components for OEMs, and aftermarket support products or services.
"We are thrilled to have our products recognized as leaders in three of the five entry categories," said Frank Nerenhausen, executive vice president at Oshkosh Corporation and president of JLG Industries, Inc. "Each of these technologies, service offerings, and products underscore our commitment to innovation and to ensuring confidence in the reliability, efficiency, and productivity JLG offerings consistently bring to the job site."
Leading the OEM features category with the highest score, SmartLoad Technology combines attachment recognition with real-time load data, so telehandler operators can work with more confidence. This package includes three parts: automatic attachment recognition, which recognizes attachments on the end of the boom and displays the appropriate capacity chart to the operator; load management information system (LMIS), which graphically depicts the location of the load within the capacity chart, indicates whether the load is compliant and prevents the operator from violating the boundaries of the chart; and load stability indicator (LSI), which works with the LMIS system to limit operation when the load is nearing the maximum capacity indicated on the capacity chart.
AccessReady received the highest score in the aftermarket support products and services entry category. As part of the company's ongoing commitment to provide robust training opportunities to end-user customers, the program is designed to train operators to use JLG and competitive model aerial work platforms (AWPs) and telehandlers safely and efficiently. AccessReady instructors have successfully participated in and graduated from one of the company's three Train-the-Trainer programs. Equipment owners and renters can choose either a classroom or online option to complete their training. For those who select the classroom option, the AccessReady program helps them locate JLG-qualified instructors in their area. The online class option includes an e-learning course and an area-based option to locate a JLG-qualified instructor to handle the hands-on evaluation necessary to complete operator qualification.
As the second-highest-scoring products in the material handlers entry category, JLG 1644 and 1732 high capacity telehandlers offer 15,600 and 16,750 pounds of lift capacity, respectively. These machines are the first JLG telehandlers in the high-capacity category and the first telehandlers in North America with SmartLoad Technology. Additionally, they are among the first equipped with the JLG precision gravity lowering system. Telehandlers equipped with this system rely on hydraulic power to raise the boom but use gravity to lower it, providing the operator with better, more precise control. These versatile, new telehandler models feature an integrated tow hitch and are compatible with a wide range of standard and specialty attachments, providing the operator with more options on the worksite. The units can take the place of wheel loaders in certain applications where greater reach is desired. The high capacities of the 1644 and 1732 make them ideal for use in wind farm, industrial construction and energy (oil and gas) extraction applications. Like other JLG telehandlers, the 1644 and 1732 include easily accessible components and a built-in analyzer display to ensure ease of serviceability, contributing to a low total cost of ownership.
Winners of this year's LLEAP Awards were selected by a panel of judges made up of industry experts involved in the operation, rental, sale, and servicing of aerial platforms and lifting equipment. Judges evaluated each entry based on innovative features and technology, perceived value, productivity for owners and users, and overall benefit to the industry, owners, and users. All the award winners, including JLG® SmartLoad Technology, AccessReady, and 1644 and 1732 high capacity telehandlers, will be featured in the November/December issue of Lift and Access.
For more information about JLG's award-winning products and services, please visit http://www.jlg.com.
About JLG Industries, Inc.
JLG Industries, Inc. is a world-leading designer, manufacturer and marketer of access equipment. The Company's diverse product portfolio includes leading brands such as JLG® aerial work platforms; JLG and SkyTrak® telehandlers; and an array of complementary accessories that increase the versatility and efficiency of these products. JLG is an Oshkosh Corporation company [NYSE: OSK]. For more information about JLG Industries, Inc., visit http://www.jlg.com.
About Oshkosh Corporation
Founded in 1917, Oshkosh Corporation is 100 years strong and continues to make a difference in people's lives. Oshkosh brings together a unique set of integrated capabilities and diverse end markets that, when combined with the Company's MOVE strategy and positive long-term outlook, illustrate why Oshkosh is a different integrated global industrial. The Company is a leader in designing, manufacturing and servicing a broad range of access equipment, commercial, fire & emergency, military and specialty vehicles and vehicle bodies under the brands of Oshkosh®, JLG®, Pierce®, McNeilus®, Jerr-Dan®, Frontline™, CON-E-CO®, London® and IMT®.
Today, Oshkosh Corporation is a Fortune 500 Company with manufacturing operations on four continents. Its products are recognized around the world for quality, durability and innovation, and can be found in more than 150 countries around the globe. As a different integrated global industrial, Oshkosh is committed to making a difference for team members, customers, shareholders, communities and the environment. For more information, please visit http://www.oshkoshcorporation.com.
®, ™ All brand names referred to in this news release are trademarks of Oshkosh Corporation or its subsidiary companies.
Forward Looking Statements
This news release contains statements that the Company believes to be "forward-looking statements" within the meaning of the Private Securities Litigation Reform Act of 1995. All statements other than statements of historical fact, including, without limitation, statements regarding the Company's future financial position, business strategy, targets, projected sales, costs, earnings, capital expenditures, debt levels and cash flows, and plans and objectives of management for future operations, are forward-looking statements. When used in this news release, words such as "may," "will," "expect," "intend," "estimate," "anticipate," "believe," "should," "project" or "plan" or the negative thereof or variations thereon or similar terminology are generally intended to identify forward-looking statements. These forward-looking statements are not guarantees of future performance and are subject to risks, uncertainties, assumptions and other factors, some of which are beyond the Company's control, which could cause actual results to differ materially from those expressed or implied by such forward-looking statements. These factors include the cyclical nature of the Company's access equipment, commercial and fire & emergency markets, which are particularly impacted by the strength of U.S. and European economies and construction seasons; the Company's estimates of access equipment demand which, among other factors, is influenced by customer historical buying patterns and rental company fleet replacement strategies; the strength of the U.S. dollar and its impact on Company exports, translation of foreign sales and purchased materials; the expected level and timing of U.S. Department of Defense (DoD) and international defense customer procurement of products and services and acceptance of and funding or payments for such products and services; higher material costs resulting from production variability due to uncertainty of timing of funding or payments from international defense customers; risks related to reductions in government expenditures in light of U.S. defense budget pressures, sequestration and an uncertain DoD tactical wheeled vehicle strategy; the impact of any DoD solicitation for competition for future contracts to produce military vehicles, including a future Family of Medium Tactical Vehicle production contract; the Company's ability to increase prices to raise margins or offset higher input costs; increasing commodity and other raw material costs, particularly in a sustained economic recovery; risks related to facilities expansion, consolidation and alignment, including the amounts of related costs and charges and that anticipated cost savings may not be achieved; global economic uncertainty, which could lead to additional impairment charges related to many of the Company's intangible assets and/or a slower recovery in the Company's cyclical businesses than Company or equity market expectations; projected adoption rates of work at height machinery in emerging markets; the impact of severe weather or natural disasters that may affect the Company, its suppliers or its customers; risks related to the collectability of receivables, particularly for those businesses with exposure to construction markets; the cost of any warranty campaigns related to the Company's products; risks related to production or shipment delays arising from quality or production issues, including any delays as a result of a recent accident at the Company's Dodge Center manufacturing facility; risks associated with international operations and sales, including compliance with the Foreign Corrupt Practices Act; the Company's ability to comply with complex laws and regulations applicable to U.S. government contractors; cybersecurity risks and costs of defending against, mitigating and responding to a data security breach; and risks related to the Company's ability to successfully execute on its strategic road map and meet its long-term financial goals. Additional information concerning these and other factors is contained in the Company's filings with the Securities and Exchange Commission. All forward-looking statements speak only as of the date of this news release. The Company assumes no obligation, and disclaims any obligation, to update information contained in this news release. Investors should be aware that the Company may not update such information until the Company's next quarterly earnings conference call, if at all.